Quality of life in patients with squamous cell carcinoma of hypopharynx after radiotherapy in a tertiary care centre
Dr. Nagavara Kalegowda Balaji

Assistant Professor, Department of ENT, Mandya Institute of Medical Sciences, Mandya, Karnataka, India

Dr. Ravi D.

Associate Professor, Department of ENT, Mandya Institute of Medical Sciences, Mandya, Karnataka, India

Dr. M.H. Prasad

Professor, Department of ENT, Mandya Institute of Medical Sciences, Mandya, Karnataka, India
Keywords:
EORTC, Quality of Life, Hypopharyngeal SCC
Abstract
EORTC is a well-accepted and peer reviewed tool of assessment. EORTC QLQ 30 measures the general clinical features of any cancer and specific EORTC.
Objectives- To determine the quality of life in patients who have undergone Radiotherapy following various modalities of treatment for different subsites of Hypopharyngeal Squamous cell carcinoma.
Methods- Two Hundred and two patients seen in ENT, Head and Neck surgery department after postoperative Radiotherapy for Hypopharyngeal Squamous Cell cancers were served with both EORTC quality of life questionnaire 30 and specific Head and Neck 35. Patients above the age of 20 years, 6 weeks after Radiotherapy with Pyriform Fossa, Posterior Pharyngeal wall and Post cricoid region squamous cell carcinoma were assessed. The study aimed at determining the quality of life and associated comorbidities.
Analysis- Data was entered into Microsoft Excel (Windows 7; Version 2007) and analyses were done using the Statistical Package for Social Sciences (SPSS) for Windows software (version 22.0; SPSS Inc, Chicago). Descriptive statistics such as mean and standard deviation (SD)for continuous variables, frequencies and percentages were calculated for categorical Variables were determined. Association between Variables was analyzed by using Chi-Square test for categorical variables.
Results- Dyspnoea and Odynophagia were the most important symptoms which crippled the patients irrespective of the subsite in which cancer presented (PFS 3.35, PPW 3.35, PCR 3.31 ;<0.001) Psychological ,Cognitive, Social functions though were affected there was not much difference amongst the individual subsites (PFS 3.66, PPW 3.18, PCR 3.01; 0.001). Almost all the patients had significant financial problems (PFS 3.36, PPW 2.91, PCR 3.59;0.001).
Conclusion- Quality of life questionnaires provide an insight into the life of patients who suffer from morbidity of the disease as well as its treatment. Thorough assessment of the condition of the patient in the post treatment status helps in timely rehabilitation.
Downloads
Download data is not yet available.
References
1. Wan LS, Lee TF, Chien CY, Chao PJ, Tsai WL, Fang FM. Health-related quality of life in 640 head and neck cancer survivors after radiotherapy using EORTC QLQ-C30 and QLQ-H&N35 questionnaires. BMC Canc. 2011;11:128. doi: 10.1186/1471-2407-11-128.

2. Bjordal K, Hammerlid E, Ahlner-Elmqvist M, de Graeff A, Boysen M, Evensen JF, et al. Quality of life in head and neck cancer patients: validation of the European Organization for Research and Treatment of Cancer Quality of Life Questionnaire-H&N35. J Clin Oncol. 1999;17(3):1008-1019. doi:10.1200/JCO.1999.17.3.1008

3. de Graeff A, de Leeuw RJ, Ros WJ, Hordijk GJ, Battermann JJ, Blijham GH, et al. A prospective study on quality of life of laryngeal cancer patients treated with radiotherapy. Head Neck. 1999;21(4):291-296.

4. Bjordal K, Ahlner-Elmqvist M, Hammerlid E, Boysen M, Evensen JF, Biörklund A, et al. A prospective study of quality of life in head and neck cancer patients. Part II: Longitudinal data. Laryngos. 2001;111(8):1440-1452. doi: https://doi.org/10.1097/00005537-200108 000- 00022

5. List MA, Stracks J. Quality of life and late toxicities in head and neck cancer. Canc Treat Res. 2003;114: 331-351.

6. Harrison LB, Zelefsky MJ, Pfister DG, Carper E, Raben A, Kraus DH, et al. Detailed quality of life assessment in patients treated with primary radiotherapy for squamous cell cancer of the base of the tongue. Head Neck. 1997;19(3):169-175.

7. Epstein JB, Hong C, Logan RM, Barasch A, Gordon SM, Oberle-Edwards L, et al. A systematic review of orofacial pain in patients receiving cancer therapy. Support Care Can. 2010;18(8):1023-1031. doi: 10.1007/ s00520-010-0897-7. Epub 2010 Jun 11.

8. Martino R, Ringash J. Evaluation of quality of life and organ function in head and neck squamous cell carcinoma. Hematol Oncol Clin North Am. 2008;22(6): 1239-1256, x. doi: 10.1016/j.hoc.2008.08.011.

9. Gandhi AK, Roy S, Thakar A, Sharma A, Mohanti BK. Symptom Burden and Quality of Life in Advanced Head and Neck Cancer Patients: AIIMS Study of 100 Patients. Indian J Palliat Care. 2014;20(3):189-193. doi: 10.4103/0973-1075.138389.

10. Cooper JS, Fu K, Marks J, Silverman S. Late effects of radiation therapy in the head and neck region. Int J Radiat Oncol Biol Phys. 1995;31(5):1141-1164. doi:10. 1016/0360-3016(94)00421-G

11. Scharloo M, Baatenburg de Jong RJ, Langeveld TP, van Velzen-Verkaik E, Doorn-Op den Akker MM, Kaptein AA. Illness cognitions in head and neck squamous cell carcinoma: predicting quality of life outcome. Support Care Canc. 2010;18(9):1137-1145. doi: 10.1007/s00520-009-0728-x. Epub 2009 Aug 29.

12. Alvarez-Buylla Blanco M, Herranz González-Botas J. [Quality of life evolution in patients after surgical treatment of laryngeal, hypopharyngeal or oropharyngeal carcinoma]. Acta Otorrinolaringol Esp. 2011; 62(2): 103-112. doi: 10.1016/j.otorri. 2010. 09. 009. Epub 2010 Nov 26.

13.Mohanti BK, Nachiappan P, Pandey RM, Sharma A, Bahadur S, Thakar A. Analysis of 2167 head and neck cancer patients' management, treatment compliance and outcomes from a regional cancer centre, Delhi, India. J Laryngol Otol. 2007;121(1):49-56. Epub 2006 Sep 25.

14. Aaronson NK, Ahmedzai S, Bergman B, Bullinger M, Cull A, Duez NJ, et al. The European Organization for Research and Treatment of Cancer QLQ-C30: a quality-of-life instrument for use in international clinical trials in oncology. J Natl Cancer Inst. 1993; 85 (5): 365-376. doi:10.1093/jnci/85.5.365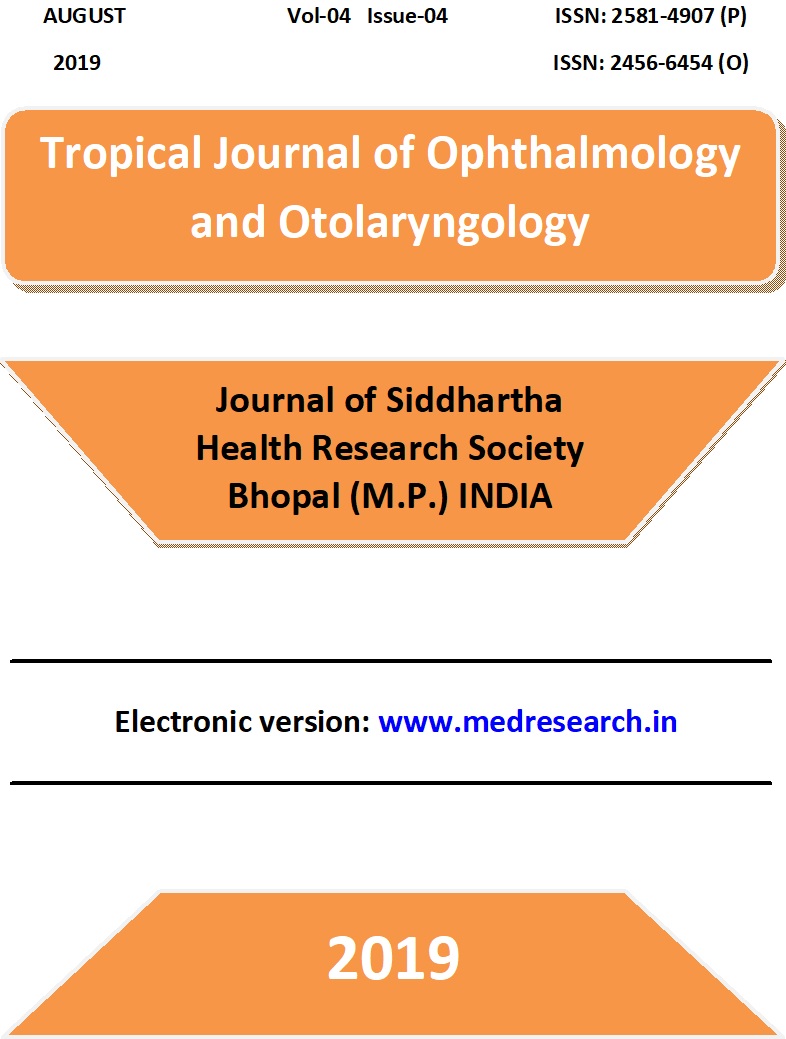 CITATION
DOI: 10.17511/jooo.2019.i04.04
How to Cite
Kalegowda Balaji, N., D., R., & Prasad, M. (2019). Quality of life in patients with squamous cell carcinoma of hypopharynx after radiotherapy in a tertiary care centre. Tropical Journal of Ophthalmology and Otolaryngology, 4(4), 277-284. https://doi.org/10.17511/jooo.2019.i04.04
Copyright (c) 2019 Author (s). Published by Siddharth Health Research and Social Welfare Society
This work is licensed under a Creative Commons Attribution 4.0 International License.