Prevalence Of Refractive Errors In School Going Children In Rural And Urban Areas -A Cross-Sectional Study
Dr. Chimata Triveni

M.S, Associate Professor, Department of Ophthalmology, NRI Academy of Medical Science, Chinakakani, Guntur, Andhra Pradesh 522503, India

Dr. Tirumuru Divya

M.S, Assistant Professor, Department of Ophthalmology, NRI Academy of Medical Science, Chinakakani, Guntur, Andhra Pradesh 522503, India

Dr. Ponna Rama Devi

M.B.B.S, Postgraduate, Department of Ophthalmology, NRI Academy of Medical Science, Chinakakani, Guntur, Andhra Pradesh 522503, India

Dr. N. Lakshmi Chowdary

M.S, Professor, Department of Ophthalmology, NRI Academy of Medical Science, Chinakakani, Guntur, Andhra Pradesh 522503, India

Dr. Gantela Sirisha

M.S, Professor, Department of Ophthalmology, NRI Academy of Medical Science, Chinakakani, Guntur, Andhra Pradesh 522503, India
Keywords:
Astigmatism, Blindness, Hypermetropia, Myopia, Refractive errors
Abstract
Introduction: Visual impairment affects students' routine schoolwork and day-to-day activities. Hence, the aim is to study the prevalence of various refractive errors and their comparison among school children of 5-15 years in rural and urban areas.
Methods: This cross-sectional study examined 998 students from both rural and urban schools. After obtaining ethical clearance and informed consent, students were examined for refractive errors. The students with the refractive error were given a socio-demographic questionnaire and questionnaire regarding their usage of television, computer, and family history of refractive errors. A Chi-square test was used to test the statistical significance of proportions. P-value < 0.05 was considered statistically significant, and data were analyzed by using coGuide software, V.1.03
Results: The prevalence of refractive error was found to be 6.41 %, with a prevalence of 7.61% in urban and 5.21% in rural areas. The difference in the type of refractive error between the study groups was found to be insignificant, with P= 0.897.
Conclusion: Prevalence of refractive errors was more in urban school children than rural. Refractive error was more prevalent in 13-15 years age group in both rural and urban school children. The most common refractive error was myopia, followed by astigmatism and hypermetropia.
Downloads
Download data is not yet available.
References
Grosvenor T. Primary Care of Optometry third edition. 3rd ed. Butterworth-Heinemann Ltd; 1996. 656 p.
F.W N. Ophthalmology: Principles and Concepts. 7th ed. Mosby; 1996. 595 p.
Kiely PM. Optometrists Association Australia Universal (entry-level) and Therapeutic Competency Standards for Optometry 2008. Clin Exp Optom. 2009;92(4):362–86. doi: 10.1111/j.1444-0938.2009.00383.x.
Mariotti SP, Pascolini D. Global estimates of visual impairment 2010. Br J Ophthalmol. 2012;96:614–8. doi: 10.1136/bjophthalmol-2011-300539.
Negrel AD, Maul E, Pokharel GP, Zhao J, Ellwein LB. Refractive error study in children: Sampling and measurement methods for a multi-country survey. Am J Ophthalmol. 2000;129(4):421–6. doi: 10.1016/s0002-9394(99)00455-9.
Gupta M, Gupta BP, Chauhan A, Bhardwaj A. Ocular morbidity prevalence among school children in Shimla, Himachal, North India. Indian J Ophthalmol. 2009;57(2):133–8. doi: 10.4103/0301-4738.45503.
WHO. World Health Organization. Visual impairment and blindness. Fact Sheet N°282. [Internet]. Fact sheets. 2014 [cited 2020 Feb 29]. Available from: http://www.who.int/mediacentre/factsheets/fs282/en/
Ore L, Garzozi HJ, Tamir A, Cohen-Dar M. Vision screening among Northern Israeli Jewish and Arab schoolchildren. Isr Med Assoc J. 2009;11(3):160–5.
Park K. Park's text book of Preventive and Social Medicine. 16th Ed. Bhanot Publishers; 2002. 259–267 p.
Kawuma M, Mayeku R. A survey of the prevalence of refractive errors among children in lower primary schools in Kampala district. Afr Health Sci. 2002;2(2):69–72.
Khandekar R, Dharmadhikari S, Dole K, Gogate P, Deshpande M, Padhye A. Prevalence of uncorrected refractive error and other eye problems among urban and rural school children. Middle East Afr J Ophthalmol. 2009;16(2):69-74. doi: 10.4103/0974-9233.53864.
BDSS Corp. Released 2020. coGuide Statistics software, Version 1.0, India: BDSS corp.
Rathod HK, Raghav PR, Mittal S. Profile of School Going Children with Visual Impairment. Ind Med Gaz. 2011;116(7):434–7.
Bataineh HA, Khatatbeh AE. Prevalance of refractive errors in school children of Tafila City. Rawal Med J. 2008;33(1):85–7.
Vidusha KSS, M. N. D. Prevalence of refractive errors among school children in the rural field practice area of a tertiary care hospital, Bengaluru. Int J Community Med Public Heal. 2018;5(4):1471.
Prema N. Prevalence of refractive error in school children. Indian J Sci Technol. 2011;4(9):1160–1.
Yadav A, Soni B. Refractive Errors in School Going Children – Data From a School Screening Survey. Natl J Community Med. 2020;4(1):137–40.
Dandona R, Dandona L, Srinivas M, Giridhar P, McCarty CA, Rao GN. Population-based assessment of refractive error in India: The Andhra Pradesh eye disease study. Clin Exp Ophthalmol. 2002;30(2):84–93. doi: 10.1046/j.1442-6404.2002.00492.x.
Shankar GS, Sujakhu D, Joshi P. Refractive error among school children in Jhapa, Nepal. J Optom. 2011;4(2):49–55.
Uzma N, Kumar BS, Salar BMKM, Zafar MA, Reddy VD. A comparative clinical survey of the prevalence of refractive errors and eye diseases in urban and rural school children. Can J Ophthalmol. 2009;44(3):328–33. doi: 10.3129/i09-030.
Kumar P, Pore P, Dixit AK, Singh N. Prevalence and demographic distribution of refractory error in school children of Pune, India. Int J Res Health Sci. 2014;(1):58–67.
Sharma S, Bashisth BM, Kalhan M GM. Ocular infection in school children in a rural block of Haryana. Int J Epidimiol. 2009;6(2).
Pavithra MB, Maheshwaran R, Sujatha RM. A study on the prevalence of refractive errors among school childern of 7-15 years age group in the field practice areas of a medical college in bangalore. Int J Med Sci Public Heal. 2013;2(3):641.
Kumar K, Akoijam B. Prevalence of refractive error among school-going children of Imphal, Manipur. Int J Med Sci Public Heal. 2016;5(7):1364.
Ali A, Ahmad I. Prevalence of undetected refractive errors among school children. Biomedica. 2017;23(2):96–101.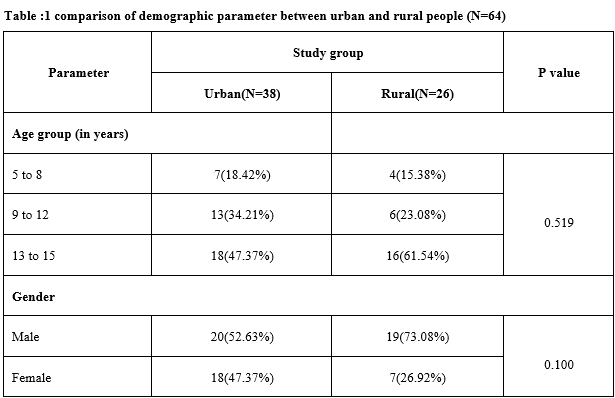 CITATION
DOI: 10.17511/jooo.2021.i02.01
How to Cite
Dr. Chimata Triveni, Dr. Tirumuru Divya, Dr. Ponna Rama Devi, Dr. N. Lakshmi Chowdary, & Dr. Gantela Sirisha. (2021). Prevalence Of Refractive Errors In School Going Children In Rural And Urban Areas -A Cross-Sectional Study. Tropical Journal of Ophthalmology and Otolaryngology, 6(2), 22-27. https://doi.org/10.17511/jooo.2021.i02.01
Copyright (c) 2021 Author (s). Published by Siddharth Health Research and Social Welfare Society
This work is licensed under a Creative Commons Attribution 4.0 International License.