Assessment of symptom severity in chronic rhinosinusitis with and without polyps- a prospective study in tertiary care centre at Mandya
Dr. Nagavara Kalegowda Balaji

Assistant Professor, Department of ENT, Mandya Institute of Medical Sciences, Mandya, Karnataka, India

Dr. Ravi D

Assosiate Professor, Department of ENT, Mandya Institute of Medical Sciences, Mandya, Karnataka, India

Dr. MH Prasad

Professor, Department of ENT, Mandya Institute of Medical Sciences, Mandya, Karnataka, India
Keywords:
CRSwNP, SNOT 22, Quality of Life
Abstract
Chronic Rhinosinusitis has been classified into Chronic Rhinosinusitis with Polyps (CRSwNP) and Chronic Rhinosinusitis without Polyps (CRSsNP) in accordance with the manifestation of the chronic inflammatory process affecting the Sinonasal mucosa. Two subtypes of CRS have varied clinical and radiologic manifestations. Wide range of symptoms and their severity significanty affects the quality of living which can be systematically assessed using QOL questionnaire.
Objectives: To assess the symptoms severity using SNOT 22 questionairre in CRSwNP and CRSsNP. Using the above data, the possibility of diagnosis of presence or absence of nasal polyps by symptom analysis will be correlated
Materials and Methods: Duration of the study was two years from May 2016 to April 2018 and Convenient (purposive)sampling method was used for sampling. SNOT 22 sino nasal outcome test questionnaire, a validated tool was used to assess the patients. All these patients were evaluated according to the standard laboratory profiles of allergy. Analysis Data was entered into Microsoft Excel (Windows 7; Version 2007) and analyses were done using the Statistical Package for Social Sciences (SPSS) for Windows software (version 22.0; SPSS Inc, Chicago).
Results: While Nasal obstruction was the most important symptom, Smoking tobacco(cigarettes) was also the most important characteristic that significantly affected both groups. Headache, Facial pain and Pressure were also universally present in both groups. Seromucinous Rhinorrhoea (4.03 vs 1.79; p value 0.001), Sneezing (4.24 vs 2.35; p value 0.001), Alteration of Taste and Smell (3.64 vs 1.25; p value 0.001) were also the factors that affected the quality of life.
Conclusion: There is a considerable overlap in the presentation and no actual correlation can be made by using only symptomatology as a tool. Endoscopic and CT scan findings are the most important entities to finally differentiate these two conditions along with immunological studies.
Downloads
Download data is not yet available.
References
1. Fokkens WJ, Lund VJ, Mullol J, Bachert C, Alobid I, Baroody F, et al. European Position Paper on Rhinosinusitis and Nasal Polyps 2012. Rhinol. 2012; 50(1): 1-12. doi: 10.4193/Rhino50E2.

2. Hastan D, Fokkens WJ, Bachert C, Newson RB, Bislimovska J, Bockelbrink A, et al. Chronic rhinosinusitis in Europe--an underestimated disease. A GA²LEN study. Allergy. 2011;66(9):1216-1223. doi: 10.1111/j.1398-9995.2011.02646.x. Epub 2011 May 24.

3. Kim YS, Kim NH, Seong SY, Kim KR, Lee GB, Kim KS. Prevalence and risk factors of chronic rhinosinusitis in Korea. Am J Rhinol Allergy. 2011; 25(3): 117-121. doi: 10.2500/ajra.2011.25.3630.

4. Hopkins C, Rudmik L, Lund VJ. The predictive value of the preoperative Sinonasal Outcome Test-22 score in patients undergoing endoscopic sinus surgery for chronic rhinosinusitis.Laryngoscope. 2015;125(8): 1779 -1784. doi: 10.1002/lary.25318. Epub 2015 Apr 17.

5.DeConde AS, Soler ZM. Chronic rhinosinusitis: Epidemiology and burden of disease. Am J Rhinol Allergy. 2016;30(2):134-139. doi: 10.2500/ajra.2016. 30.4297.

6. Bhattacharyya T, Piccirillo J, Wippold FJ. Relationship between patient-based descriptions of sinusitis and paranasal sinus computed tomographic findings. Arch Otolaryngol–Head Neck Surg. 1997; 123 (11): 1189-1192.

7. Deal RT, Kountakis SE. Significance of nasal polyps in chronic rhinosinusitis: symptoms and surgical outcomes. Laryngo. 2004;114(11):1932-1935. doi:10. 1097/ 01.mlg. 0000147922.12228.1f

8. Lund VJ, Kennedy DW. Staging for rhinosinusitis. Otolaryngol Head Neck Surg. 1997;117(3 Pt 2):S35-S40. doi:10.1016/S0194-59989770005-6

9. Bradley DT, Kountakis SE. Correlation between computed tomography scores and symptomatic improvement after endoscopic sinus surgery. Laryngo. 2005;115(3):466-469.doi:10.1097/01.mlg.0000157 840. 556 59.62

10.Craig TJ, Ferguson BJ, Krouse JH. Sleep impairment in allergic rhinitis, rhinosinusitis, and nasal polyposis. Am J Otolaryngol. 2008;29(3):209-217. doi: 10.1016/j. amjoto.2007.06.002.

11.Ragab SM, Lund VJ, Scadding G, Saleh HA, Khalifa MA. Impact of chronic rhinosinusitis therapy on quality of life: a prospective randomized controlled trial. Rhinol. 2010;48(3):305-311. doi: 10.4193/Rhin08.137.

12. Sobol SE, Wright ED, Frenkiel S. One-year outcome analysis of functional endoscopic sinus surgery for chronic sinusitis. J Otolaryngol-Head Neck Surg. 1998;27(5):252-257.

13.Soler ZM, Mace J, Smith TL.Symptom-based prese-ntation of chronic rhinosinusitis and symptom-specific outcomes after endoscopic sinus surgery. Am J Rhinol. 2008;22(3):297-301. doi: 10.2500/ajr.2008. 22. 3172.

14. Abdalla S, Alreefy H, Hopkins C. Prevalence of sinonasal outcome test (SNOT-22) symptoms in patients undergoing surgery for chronic rhinosinusitis in the England and Wales National prospective audit. Clin Otolaryngol. 2012;37(4):276-282. doi: 10.1111/j.1749-4486. 2012.02527.x.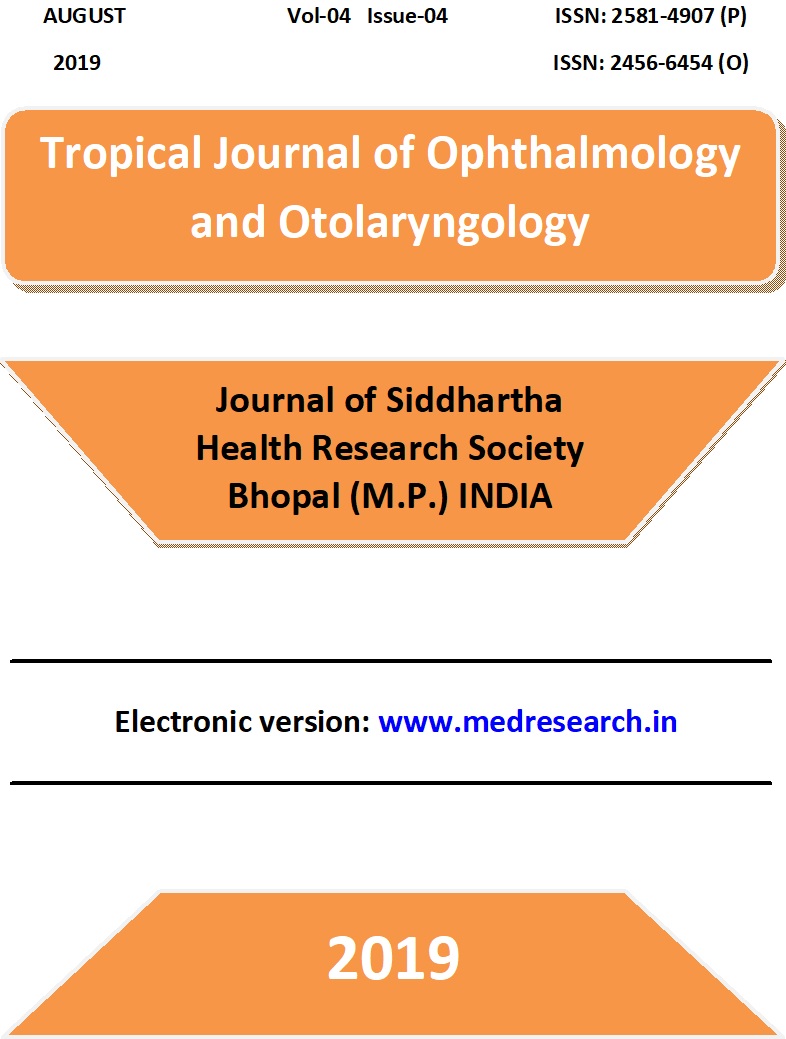 CITATION
DOI: 10.17511/jooo.2019.i04.03
How to Cite
Kalegowda Balaji, N., D, R., & Prasad, M. (2019). Assessment of symptom severity in chronic rhinosinusitis with and without polyps- a prospective study in tertiary care centre at Mandya. Tropical Journal of Ophthalmology and Otolaryngology, 4(4), 270-276. https://doi.org/10.17511/jooo.2019.i04.03
Copyright (c) 2019 Author (s). Published by Siddharth Health Research and Social Welfare Society
This work is licensed under a Creative Commons Attribution 4.0 International License.