Retinitis Pigmentosa in a rare case of Bardet Beidl Syndrome
Dr. Milind Sabnis

Professor and Head of the Department, Department of Ophthalmology, Dr. D.Y. Patil Medical College Hospital & Research Institute, Kolhapur, Maharashtra, India

Dr. Antariksh Mohta

MBBS, 3rd Year Resident In Department Of Ophthalmology at Dr. D.Y.Patil Medical College Hospital Research Institute,Kolhapur, Maharashtra, India

Dr. Monica Nayyar

MBBS, 3rd Year Resident, Department of Ophthalmology, Dr. D.Y. Patil Medical College Hospital & Research Institute, Kolhapur, Maharashtra, India

Dr. Vedesh Kulkarni

MBBS, 2nd Year Resident, Department of Ophthalmology, Dr. D.Y. Patil Medical College Hospital & Research Institute, Kolhapur, Maharashtra, India
Keywords:
Bardet Beidl Syndrome, Retinitis pigmentosa, Rod-cone dystrophy
Abstract
Retinitis pigmentosa is a rod-cone dystrophy with a prevalence of 1 in 5000 with nyctalopia and loss in peripheral field of vision. In retinitis pigmentosa there is progressive loss of rod photoreceptors majorly. Bardet Beidl Syndrome [BBS] there is presentation of atypical retinitis pigmentosa. Bardet Beidl Syndrome [BBS] is a rare ciliopathic and pleiotropic condition which is an autosomal recessive genetic disorder hampering multiple organ systems. The prevalence of Bardet Beidl Syndrome is about 1 in 150000 population globally and its incidence increases in consanguineous married people. The occurrence of the syndrome is found out to be 1:1,60,000. Only 11 cases have been reported from India out of which only one had documented end stage kidney disease requiring renal replacement therapy. It affects male and female equally. There is no specific treatment for the syndrome as it is a genetic disorder but patient can be treated symptomatically. We here present a case report of 20-year-old male patient came to our OPD with complaint of increased diminution of vision having clinical findings of retinitis pigmentosa, polydactyly, central obesity with renal involvement.
Downloads
Download data is not yet available.
References
Bijnya BP, Anusha V, Rashmi RD, Jyotiranjan M, Susanta P. Unusual pattern of Refractive Error in Siblings of Laurence-Moon-Biedl Syndrome, J of Evidence Based Med and Healthcare, 2015;2(33):5053-5057. doi: 10.18410/jebmh/2015/703.
Prosperi L, Cordella M, Bernasconi S. Electroretinography and diagnosis of the Laurence-Moon-Bardet-Biedl syndrome in childhood. J Pediatr Ophthalmol. 1977;14(5):305-308.
Rathi M, Ganguli A, Singh SK, Kohli HS, Gupta KL, Sakhuja V, Jha V. Bardet-Biedl syndrome with end-stage kidney disease: A case report and review of literature. Indian J Nephrol. 2007;17(1):10-13. doi: 10.4103/0971-4065.35014.
Farag TI, Teebi AS. High incidence of BardetBiedl syndrome among the Bedouin. Clin Genet. 1989;36(6):463-464. doi: https://doi.org/10.1111/j.1399-0004.1989.tb03378.x.
Pearce WG, Gillan JG, Brosseau L. Bardet-Biedl syndrome and retinitis punctataalbescens in an isolated northern Canadian community. Can J Ophthalmol. 1984;19(3):115-118.
Gorlin RJ, Cohen MMJr, Hennekam RCM. Eds. Syndromes of the Head and Neck. 4th ed. Oxford University Press, New York, NY; 2001:pp 1186-1190.
Moore SJ, Green JS, Fan Y, Bhogal AK, Dicks E, Fernandez BA, et al. Clinical and genetic epidemiology of Bardet–Biedl syndrome in Newfoundland: A 22‐year prospective, population‐based, cohort study. Am J Med Genet. Part A. 2005;132(4):352-360. doi:10.1002/ajmg.a.30406.
Tariq Q, Ayub ARN, Mehmooda A. Laurence-Moon (Bardet) Biedl Syndrome, JK Practioner. 2003;10(3):217-218.
Beales PL, Elcioglu N, Woolf AS, Parker D, Flinter FA. New criteria for improved diagnosis of Bardet-Biedl syndrome: results of a population survey. J Med Genet. 1999;36(6):437-446. doi: http://dx.doi.org/10.1136/jmg.36.6.437.
Parmeggiani F. Clinics, Epidemiology and Genetics of Retinitis Pigmentosa. Curr Genom. 2011;12(4):236-237. doi:10.2174/138920211795860080.
Hamel C. Retinitis pigmentosa. Orphan J Rare Dis. 2006;1(1):40. doi:10.1186/1750-1172-1-40.
Rivolta C, Sharon D, DeAngelis MM, Dryja TP. Retinitis pigmentosa and allied diseases: numerous diseases, genes, and inheritance patterns. Human mole Genet. 2002;11(10):1219-1227. doi:10.1093/hmg/11.10.1219.
Nachury MV, Loktev AV, Zhang Q, Westlake CJ, Peränen J, Merdes A, et al. A core complex of BBS proteins cooperates with the GTPase Rab8 to promote ciliary membrane biogenesis. Cell. 2007;129(6):1201-1213. doi: https://doi.org/10.1016/j.cell.2007.03.053.
Hamosh A, Scott AF, Amberger J, Valle D, McKusick VA. Online Mendelian inheritance in man (OMIM). Human Mutat. 2000;15(1):57-61. doi: https://doi.org/10.1002/(SICI)1098-1004(200001)15:1<57::AID-HUMU12>3.0.CO;2-G.
Blacque OE, Reardon MJ, Li C, McCarthy J, Mahjoub MR, Ansley SJ, et al. Loss of C. elegans BBS-7 and BBS-8 protein function results in cilia defects and compromised intraflagellar transport. Gen Develop. 2004;18(13):1630-1642. doi:10.1101/gad.1194004.
Sedmak T, Wolfrum U. Intraflagellar transport molecules in ciliary and nonciliary cells of the retina. J Cell Biol. 2010;189(1):171-186. doi:10.1083/jcb.200911095.
Orozco JT, Wedaman KP, Signor D, Brown H, Rose L, Scholey JM. Movement of motor and cargo along cilia. Nature. 1999;398(6729):674. doi:10.1038/19448.
Bardet Biedl Syndrome Foundation. Available from: https://www.bardetbiedl.org/what-is-bbs.
Kumar S, Mahajan BB, Mittal J. Bardet-Biedl syndrome: A rare case report from North India. Indian J Dermatol Venereol Leprol. 2012;78(2):228. doi: 10.4103/0378-6323.93656.
Hooda AK, Karan SC, Bishnoi JS, Nandwani A, Sinha T. Renal transplant in a child with Bardet-Biedl syndrome: A rare cause of end-stage renal disease. Indian J Nephrol. 2009;19(3):112-114. doi: 10.4103/0971-4065.57108.
Azari AA, Aleman TS, Cideciyan AV, Schwartz SB, Windsor EA, Sumaroka A, et al. Retinal disease expression in Bardet-Biedl syndrome-1 (BBS1) is a spectrum from maculopathy to retina-wide degeneration. Invest Ophthalmol Vis Sci. 2006;47(11):5004-5010. doi: https://doi.org/10.1167/iovs.06-0517.
Simons DL, Boye SL, Hauswirth WW, Wu SM. Gene therapy prevents photoreceptor death and preserves retinal function in a Bardet-Biedl syndrome mouse model. Proc Natl Acad Sci USA. 2011; 108(15):6276-6281. doi: 10.1073/pnas.1019222108. Epub 2011 Mar 28.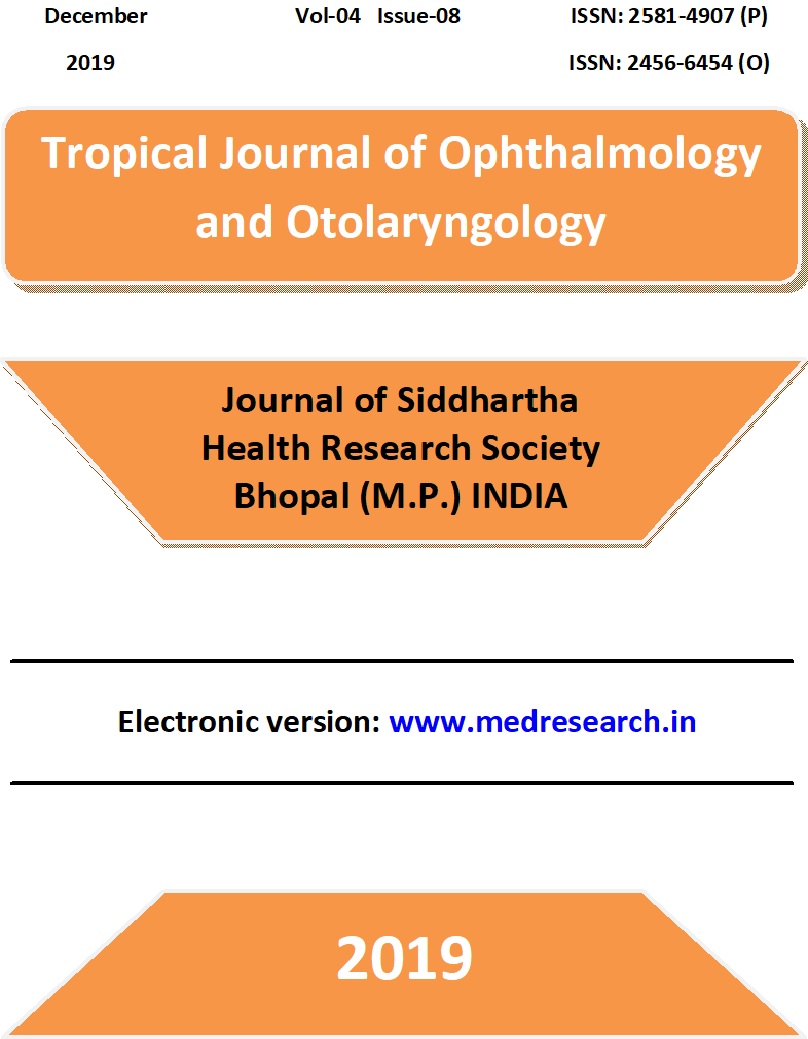 CITATION
DOI: 10.17511/jooo.2019.i08.07
How to Cite
Sabnis, M., Dr. Antariksh Mohta, Nayyar, M., & Kulkarni, V. (2020). Retinitis Pigmentosa in a rare case of Bardet Beidl Syndrome. Tropical Journal of Ophthalmology and Otolaryngology, 4(8), 496-501. https://doi.org/10.17511/jooo.2019.i08.07
Copyright (c) 2019 Author (s). Published by Siddharth Health Research and Social Welfare Society
This work is licensed under a Creative Commons Attribution 4.0 International License.