Microbiological spectrum of acute and chronic dacrocystitis in Malwa region
Dr. Abha Verma

Associate Professor, Sri Aurobindo Medical College and PG Institute, Indore (M.P.), India

Dr. Mayank Gupta

Junior Resident;Sri Aurobindo Medical College and PG Institute Indore, M.P., India
Keywords:
Dacryocystitis, Lacrimal sac, Culture
Abstract
Introduction– The aim of this study is to report the microbiological spectrum and antibiotic sensitivity of acute and chronic dacryocystitis. This was a prospective study done at Sri Aurobindo medical college and PG institute in 61 cases of dacryocystitis from October 2017 to April 2019.
Materials and Method- After proper clinical examination patients were diagnosed with dacryocystitis. On presence of pus filled sac patients were categorised as acute dacryocystitis, chronic dacryocystitis patients were diagnosed after ROPLAS test and lacrimal syringing These cases were reviewed for microbiological and demographic profile. Culture results with the organisms isolated were then recorded. Under aseptic precautions, cleaning the surrounding area, specimens for microbiological analysis were obtained by sterile cotton swab from the lacrimal sac, by applying pressure over the lacrimal sac area and allowing purulent material to reflux through the lacrimal puncta. All the specimens were sent to institute's microbiology department for analysis.
Results– 61 patients were evaluated out of which 24 were acute onset and 37 had chronic onset. Female male ratio was 1.68. Mean age of presentation was 52 yrs. Gram positive organisms were the most commonly isolated accounting for 74% and the commonest species isolated was S. aureus in 76 %. Percentage of gram-positive cultures was higher in chronic dacryocystitis than acute ones. Also, in culture positive acute dacryocystitis, gram negative species were found in only 17% of cases.
Conclusion– Gram positive bacteria is commonest cause of dacryocystitis however gram negative bacterias were found to be more virulent. The result of this study had significant bearing on patients with dacryocystitis and also helpful when mass cataract surgeries were being performed.
Downloads
Download data is not yet available.
References
1. Sihota R, Tandon R. Parson's Diseases of the Eye. 22nd edition. New Delhi; Elsevier; 2015:475-78.

2. Patel K, Magdum R, Sethia S, Lune A, Pradhan A, Misra RN. A clinico-bateriological study of chronic dacryocystitis. Sudan J Ophthalmol. 2014 ;6(1):1-5. doi: 10.4103/1858-540X.138842

3. Mills DM, Bodman MG, Meyer DR, Morton III AD, ASOPRS Dacryocystitis Study Group. The micro-biologic spectrum of dacryocystitis: a national study of acute versus chronic infection. Ophthal Plas Reconstruct Surg. 2007;23(4):302-306. doi: 10.1097/ IOP. 0b013e318070d237

4. Bharathi MJ, Ramakrishnan R, Maneksha V, Shivakumar C, Nithya V, Mittal S. Comparative bacteriology of acute and chronic dacryocystitis. Eye (Lond). 2008; 22(7): 953-960. doi:10.1038/sj.eye. 670 2918

5.Chaudhry IA, Shamsi FA, Al-Rashed W. Bacteriology of chronic dacryocystitis in a tertiary eye care center. Ophthal Plast Reconstruct Surg. 2005; 21(3): 207-210. doi: 10.1097/01.IOP.000016 1718.54275.7D

6. Madhusudhan, Yanti M, Nabilah I, Hussein A. Microbiological aetiology of acute dacryocystitis Sains Malaysia, Kelantan Malaysia. J Acute Dis (2012):31-34. doi: 10.1016/S2221-6189(13)60050-5

7. Prakash R, Girish Babu RJ, Nagaraj ER, Prashanth HV, Jayashree S. A bacteriological study of dacryo-cystitis. J Clinic Diagnos Res. 2012;6(4):652-655.

8. Sun X, Liang Q, Luo S, Wang Z, Li R, Jin X. Microbiological analysis of chronic dacryocystitis. Ophthalmic Physiol Opt. 2005;25(3):261-263. doi:10. 1111/j. 1475-1313.2005.00284.x

9. Brook I, Frazier EH. Aerobic and anaerobic microbiology of dacryocystitis. Am J Ophthalmol. 1998;125 (4): 552-554. doi:10.1016/s0002-9394(99) 80198-6

10. Mills DM, Bodman MG, Meyer DR, Morton AD 3rd; ASOPRS Dacryocystitis Study Group. The micro-biologic spectrum of dacryocystitis: a national study of acute versus chronic infection. Ophthalmic Plast Reconstr Surg. 2007;23(4):302-306. doi:10.1097/ IOP. 0b013e 318070d237

11. Kebede A, Adamu Y, Bejiga A. Bacteriological study of dacryocystitis among patients attending in Menelik II Hospital, Addis Ababa, Ethiopia. Ethiop Med J. 2010;48(1):29-33.

12. Mandal R, Banerjee AR, Biswas MC, Mondal A, Kundu PK, Sasmal NK. Clinicobacteriological study of chronic dacryocystitis in adults. J Indian Med Assoc. 2008;106(5):296-298.

13. Assefa Y, Moges F, Endris M, Banchamlak Zereay, Bemnet Amare, Damtew Bekele et al. Bacteriological profile and drug susceptibility patterns in dacryocystitis patients attending Gondar University Teaching Hospital, Northwest Ethiopia. BMC Ophthalmol. 2015;15(1):1–8. doi: 10.1186/s12886-015-0016-0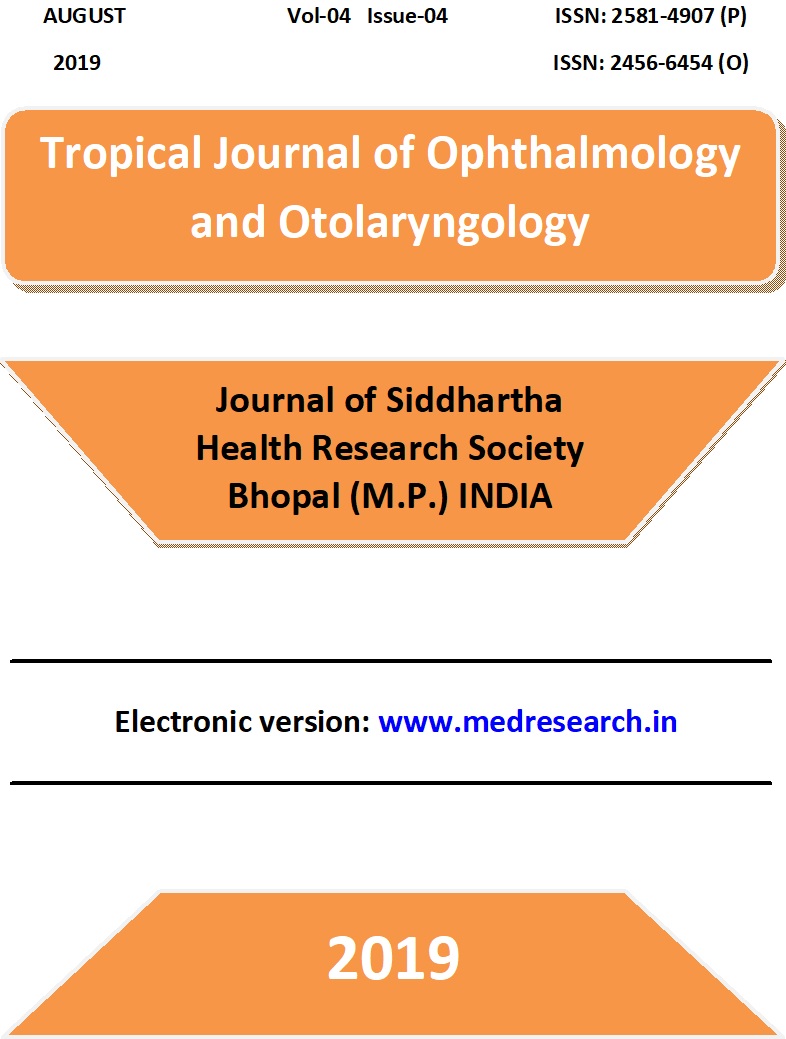 CITATION
DOI: 10.17511/jooo.2019.i04.01
How to Cite
Verma, A., & Gupta, M. (2019). Microbiological spectrum of acute and chronic dacrocystitis in Malwa region. Tropical Journal of Ophthalmology and Otolaryngology, 4(4), 258-262. https://doi.org/10.17511/jooo.2019.i04.01
Copyright (c) 2019 Author (s). Published by Siddharth Health Research and Social Welfare Society
This work is licensed under a Creative Commons Attribution 4.0 International License.