Efficacy of composite perichondrial–chondral graft in type 1 tympanoplasty a comparative study
Dr. Vijayasundaram Sundararajan

Associate Professor, Department of Otorhinolaryngology Head and Neck Surgery, NRI Medical College, Guntur, Andhra Pradesh, India

Dr. Satyaprabhakara Rao

Professor and Head of the Department, Department of Otorhinolaryngology Head and Neck Surgery, NRI Medical College, Guntur, Andhra Pradesh, India

Dr. Deepthi Y.

Junior Resident; Department of Otorhinolaryngology Head and Neck Surgery, NRI Medical College, Guntur, Andhra Pradesh, India
Keywords:
Tympanoplasty, Temporalis fascia, Perichondrial graft
Abstract
Introduction: Temporalis fascia is the most commonly used material for tympanic membrane reconstruction, followed by perichondrial graft.
Objective: To compare the efficacy of cartilage graft versus temporalis fascia graft. Study Design is Randomised prospective study in ENT department of tertiary care hospital (NRI medical college and general hospital)
Material and Methods: A sample size of 60 patients used, who were randomly divided into two groups – Group A (Perichondrial-chondral graft) and Group B (Temporalis fascia graft). They were subjected to a detailed history and clinical examination. After surgery, they were followed-up at one month, three months, and six months to check for graft uptake and hearing assessment byPure Tone Audiometry.
Results: It was observed that in Group A 100% (30) of the patients achieved complete closure of tympanic membrane by the end of the first month, and it remained unchanged till the end of 6 months. In Group B, 96.6% (29) patients achieved complete closure by the end of the 1st month, and it reduced to 93.3% (28) at the end of six months.
Conclusions: Although there is no statistical difference in graft uptake and hearing improvement between the groups, the graft uptake and hearing results for perichondrial-chondral graft in comparison with temporalis fascia grafts are slightly better.
Downloads
Download data is not yet available.
References
1. Proctor B. A statistical review of 177 tympano-plasties performed in 1957-1958. AMA Arch Otolaryngol. 1960;71(3):469-77.

2. Wullstein H. Theory and practice of tympanoplasty. Laryngoscope. 1956;66(8):1076-93. DOI:10.1288/000 05537-195608000-00008

3. Zollner F. The principles of plastic surgery of the sound-conducting apparatus. J Laryngol Otol. 1955; 69 (10):637-52.

4. SHEA JJ Jr. Vein graft closure of eardrum perforations. J Laryngol Otol. 1960;74:358-62. DOI:10. 1017/ s002221510005670x

5. Heermann J Jr, Heermann H, Kopstein E. Fascia and cartilage palisade tympanoplasty. Nine years' expe-rience. Arch Otolaryngol. 1970;91(3):228-41.

6. Goodhill V. Tragal perichondrium and cartilage in tympanoplasty. Arch Otolaryngol. 1967;85(5):480-91.

7. Gibb AG, Chang SK. Myringoplasty (A review of 365 operations). J Laryngol Otol. 1982;96(10):915-30. DOI:10.1017/s0022215100093270

8. Dabholkar JP, Vora K, Sikdar A. Comparative study of underlay tympanoplasty with temporalis fascia and tragal perichondrium. Indian J Otolaryngol Head Neck Surg.2007;59(2):116-9.DOI:10.1007/s12070-0070035-0

9. Sheehy JL, Anderson RG. Myringoplasty. A review of 472 cases. Ann OtolRhinolLaryngol. 1980;89(4 Pt 1):331-4. DOI:10.1177/000348948008900407

10. Titoria P, Alderson D. A technique for raising tragal perichondrium. Clin Otolaryngol. 2010;35(1):75. DOI: 10.1111/j.1749-4486.2009.02064.x.

11. Singh BJ, Sengupta A, Das SK, Ghosh D, Basak B. A comparative study of different graft materials used in myringoplasty. Indian J Otolaryngol Head Neck Surg. 2009; 61(2): 131-4. DOI: 10.1007/s12070-009-0051-3. Epub 2009 Jun 14.

12. Singh B, Baka N, Kumar N, Purohit JP.Study of various grafts in closure of tympanic membrane perforation. Sch. J. App. Med. Sci., 2015; 3(3G):1509-1515.

13. Sharma N, Sharma P, Sharma P, GouravK, Goyal VP.Comparison of ontological and audiological outcome of type I tympanoplasty using composite tragal perichondrium and temporalis fascia as graft. IntJ OtorhinolaryngolHeadNeck Surg.2018;4(5):xxx. DOI: http:/dx.doi.org10.18203issn2454-5929.ijohns 201834

14. Al Lackany M, Sarkis NN. Functional results after Myringoplasty and type-I Tympanoplasty with the use of different Graft Materials. J Med Res Inst. 2005;26(4): 369-74.

15. Sprem N, Branica S, Dawidowsky K. Tympa-noplasty after war blast lesions of the eardrum: retrospective study. Croat Med J. 2001;42(6):642-5.

16. Gupta P, Prajapati BJ, Gupta More Y, Mehta R, Sinha V. Different types of graft materials in Type-I Tympanoplasty. Ind J Otol. 2007 ;13:9-11.

17. Patil K, Baisakhiya N, Deshmukh PT. Evaluation of different graft material in type 1 tympanoplasty. Indian J Otol. 20141; 20 (3):106. DOI: 10.4103/0971-7749. 136844

18. Dabholkar JP, Vora K, Sikdar A. Comparative study of underlay tympanoplasty with temporalis fascia and tragal perichondrium. Indian J Otolaryngol Head Neck Surg. 2007;59(2):116-9. DOI: 10.1007/s12070-007-0035-0. Epub 2007 Sep 14.

19. Jain A, Samdani S, Sharma MP, Meena V. Island cartilage vs temporalis fascia in type 1 tympanoplasty: A prospective study. Acta Otorrinolaringologica (English Edition). 2018;69(6):311-7.DOI: 10.1016/j. otorri. 2017.10.004.

20. Tang Herman MK. The perforated ear-drum: To repair or not. Hong Kong J Online. 1989;11:124-5.

21. Mathai J. Myringoplasty with temporalis fascia : Analysis of 200 cases. Indian J Otolaryngol Head Neck Surg. 1999;51(2):9-13. DOI: 10.1007/BF02997983.

22. SoodAS ,Pal P,Singla A. Comparative study of type1 tympanlasty using temporalis fascia and tarsal cartilage with perichondrium as graft material. Int J Otorhinolaryngol Head Neck Surg. 2018;4(3):789-793. DOI: 10.18203/issn.2454-5929.ijohns20181873

23. Tarik Sapci et al ,Comparision between tympanoplasties with cartilage- perichondrium composite graft and temporal fascia graft in terms of hearing levels and healing. KBB:J Ear, Nose, Thro. 2006; 16(6):255-260.

24.Kalcioglu MT, Tan M, Croo A. Comparison between cartilage and fascia grafts in type 1 tympanoplasty. B-ENT. 2013;9(3):235-9.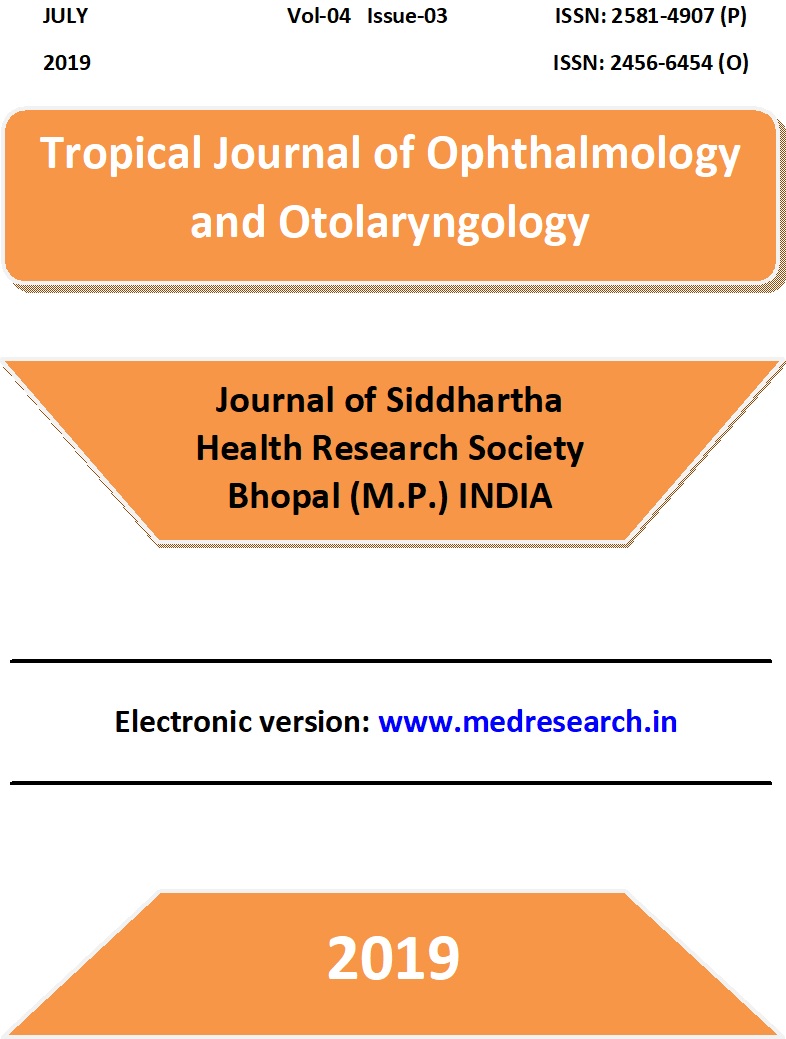 CITATION
DOI: 10.17511/jooo.2019.i03.07
How to Cite
Sundararajan, V., Rao, S., & Y., D. (2019). Efficacy of composite perichondrial–chondral graft in type 1 tympanoplasty a comparative study. Tropical Journal of Ophthalmology and Otolaryngology, 4(3), 219-226. https://doi.org/10.17511/jooo.2019.i03.07
Copyright (c) 2019 Author (s). Published by Siddharth Health Research and Social Welfare Society
This work is licensed under a Creative Commons Attribution 4.0 International License.