Comparative study of surgically induced astigmatism: superior versus superotemporal scleral incision performed in rural hospital
Dr Kripalini Soonthodu Hoovayya

Assistant Professor, Department of Ophthalmology, K.V.G Medical College and Hospital, Sullia, Karnataka, India
Keywords:
Astigmatism, MSICS, superotemporal incision, Superior incision, Surgically induced astigmatism, cataract
Abstract
Introduction: Phacoemulsification has become a gold standard procedure of cataract extraction in the developed countries. Phacoemulsification is expensive hence manual small incision cataract surgery is a better alternative in developing nations. One of the important cause of poor uncorrected visual activity after cataract extraction is high astigmatism. Incision being the first and most important determinant of postoperative astigmatism. Placement of incision superotemporally is one modification to minimize the high pre-existing ATR astigmatism and improving the postoperative visual outcome.
Aim: To study the type and amount of surgically induced astigmatism following superior and superotemporal scleral incision in manual small incision cataract surgery.
Design: Prospective randomized comparative clinical study.
Methodology: 50 eyes of 50 patients each were randomly assigned for superior scleral incision and superotemporal scleral incision and MSICS with PCIOL implantation were performed. Patients were examined on day 1, day 7, end of 4 weeks and 3 months after surgery.
Results: 3 months after surgery, 80% of the patients in superior incision group had ATR astigmatism and 86% of the patients in super temporal incision group had WTR astigmatism. The mean SIA in superotemporal group was significantly less than superior incision group.
Conclusion: MSICS performed with superotemporal scleral incision in comparison with superior scleral incision produces significantly less surgically induces astigmatism with better stabilization of refraction.
Downloads
Download data is not yet available.
References
1. Akura J, Kaneda S, Hatta S, et al. Controlling astigmatism in cataract surgery requiring relatively large self-sealing incisions. J Cataract Refract Surg. 2000 Nov;26(11):1650-9.[pubmed]

2. Rathore MK, Temporal Tunnel Incision in SICS, In: Kamaljeet Singh. Small incision cataract surgery (phaco manual). 1st Edition. Jaypee brothers; 2002:136-9.

3. Oshika T, Sugita G, Tanabe T, et al. Regular and irregular astigmatism after superior versus temporal scleral incision cataract surgery. Ophthalmology. 2000 Nov;107(11):2049-53.[pubmed]

4. Zawar SV, Gogate P. Safety and efficacy of temporal manual small incision cataract surgery in India. Eur J Ophthalmol. 2011 Nov-Dec;21(6):748-53. doi: 10.5301/EJO.2011.6521.[pubmed]

5. Khanna R, Pujari S, Sangwan V. Cataract surgery in developing countries. CurrOpinOphthalmol. 2011 Jan;22(1):10-4. doi: 10.1097/ICU.0b013e3283414f50.[pubmed]

6. Pershing S, Kumar A. Phacoemulsification versus extracapsular cataract extraction: where do we stand? CurrOpinOphthalmol. 2011 Jan;22(1):37-42. doi: 10.1097/ICU.0b013e3283414fb3.[pubmed]

7. Ruit S, Tabin G, Chang D, et al. A prospective randomized clinical trial of phacoemulsification vs manual sutureless small-incision extracapsular cataract surgery in Nepal. Am J Ophthalmol. 2007 Jan;143(1):32-38. Epub 2006 Sep 5. DOI:10.1016/j.ajo.2006.07.023.[pubmed]

8. Gogate P, Deshpande M, Nirmalan PK. Why do phacoemulsification? Manual small-incision cataract surgery is almost as effective, but less expensive. Ophthalmology. 2007 May;114(5):965-8. Epub 2007 Feb 12. DOI:10.1016/j.ophtha.2006.08.057.[pubmed]

9. Jaffe N S, Jaffe M S and Jaffe G F, Intraocular lens, In: Cataract surgery and its complications. 6th Edition. St Louis Missouri: Mosby; 1997. 147-99.

10. Gokhale NS, Sawhney S. Reduction in astigmatism in manual small incision cataract surgery through change of incision site. Indian J Ophthalmol. 2005 Sep;53(3):201-3.[pubmed]

11. Yadav H, Rai V. A Study of Comparison Astigmatism Following Manual Small Incision Cataract Surgery: Superior versus Temporal Approach. Journal of Evolution of Medical and Dental Sciences. 2014;3(23):430-4.

12. Radwan AA. Comparing Surgical-Induced Astigmatism through Change of Incision Site in Manual Small Incision Cataract Surgery (SICS). J Clinic Experiment Ophthalmol 2011; 2:161.

13. Pawar VS, Sindal DK. A comparative study on the superior, supero-temporal and the temporal incisions in small incision cataract surgeries for postoperative astigmatism. Journal of Clinical and Diagnostic Research. 2012; 6:1229-32.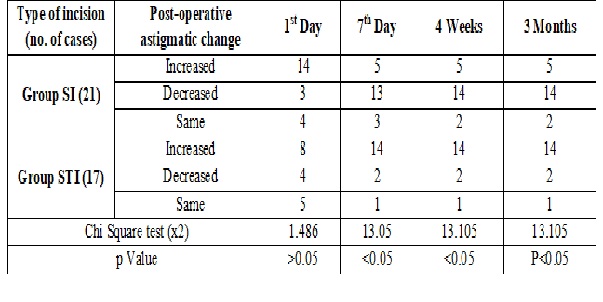 CITATION
DOI: 10.17511/jooo.2019.i02.04
How to Cite
Soonthodu Hoovayya, K. (2019). Comparative study of surgically induced astigmatism: superior versus superotemporal scleral incision performed in rural hospital. Tropical Journal of Ophthalmology and Otolaryngology, 4(2), 86-91. https://doi.org/10.17511/jooo.2019.i02.04
Copyright (c) 2019 Author (s). Published by Siddharth Health Research and Social Welfare Society
This work is licensed under a Creative Commons Attribution 4.0 International License.