A late presented case of a pseudophakic bullous keratopathy with descemet's membrane detachment treated by penetrating keratoplasty
Nishi Prasad

Gandhi Medical College, Bhopal

Aditi Dubey

Gandhi Medical College, Bhopal

Kavita Kumar

Gandhi Medical College, Bhopal
Keywords:
pseudophakic bullous keratopathy, descemet's membrane detachment, cataract surgery, penetrating keratoplasty
Abstract
Pseudophakic bullous keratopathy (PBK), also known as postoperative corneal edema, is the development of irreversible corneal edema after cataract surgery. Descemet's membrane detachment (DMD) is also relatively common after cataract surgery. The purpose of this study is to present a case report on the visual outcome after penetrating keratoplasty in an elderly female with longstanding pseudophakic bullous keratopathy with descemet's membrane detachment, who presented to cornea clinic with gradual progressive diminution of vision, five years after cataract surgery. Penetrating keratoplasty with a healthy donor cornea helped salvaging her visual outcome.
Downloads
Download data is not yet available.
References
1. Gurmani B, Kaur K. Pseudophakic Bullous Keratopathy. In: StatsPearls. Treasure Island (FL): StatPearls Publishing; 2022 Jan.
2. Claesson M, Armitage WJ, Stenevi U. Corneal oedema after cataract surgery: predisposing factors and corneal graft outcome. Acta Ophthalmol. 2009 Mar;87(2):154-9.
3. Feizi S. Corneal endothelial cell dysfunction: etiologies and management. Ther Adv Ophthalmol. 2018 Jan-Dec;10:2515841418815802.
4. Pricopie S, Istrate S, Voinea L, Leasu C, Paun V, Radu C. Pseudophakic bullous keratopathy. Rom J Ophthalmol. 2017 Apr-Jun;61(2):90-94.
5. Samarawickrama C, Beltz J, Chan E. Descemet's membrane detachments post cataract surgery: a management paradigm. Int J Ophthalmol. 2016;9(12):1839-1842. Published 2016 Dec 18. doi:10.18240/ijo.2016.12.23
6. Wang SW, Tseng SH. Occult Descemet's membrane detachment after phacoemulsification surgery mimicking pseudophakic bullous keratopathy. Taiwan J Ophthalmol. 2015;5(3):136-139. doi:10.1016/j.tjo.2015.04.001.
7. Bhatia, H.K., Gupta, R. Delayed-onset descemet's membrane detachment after uneventful cataract surgery treated by corneal venting incision with air tamponade: a case report. BMC Ophthalmol 16, 35 (2016). doi:10.1186/s12886-016-0212-6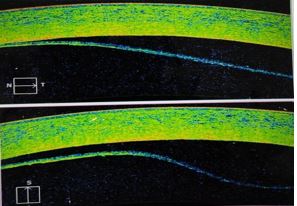 How to Cite
Prasad, N., Dubey, A., & Kumar, K. (2023). A late presented case of a pseudophakic bullous keratopathy with descemet's membrane detachment treated by penetrating keratoplasty. Tropical Journal of Ophthalmology and Otolaryngology, 7(6), 46-49. Retrieved from https://opthalmology.medresearch.in/index.php/jooo/article/view/243
Copyright (c) 2023 Author (s). Published by Siddharth Health Research and Social Welfare Society
This work is licensed under a Creative Commons Attribution 4.0 International License.