Clinical patterns of Uveitis in a Regional Eye Institute of North India
Dr. Pratibha Malhotra

MS RMO, Department of Ophthalmology, SHC Guru ka Bagh, PHC Ramdass, Punjab, India

Dr. Mandeep Kaur

MS, Assistant Professor, Department of Ophthalmology, Sri Guru Ram Das Institute of Medical Sciences and Research, Vallah, Amritsar, Punjab, India

Dr. Inderjit Kaur

MS, Ex-Professor & Head, Department of Ophthalmology, Government Medical College, Amritsar, Punjab, India

Dr. Prempal Kaur

MS Professor & Head, Department of Ophthalmology, Government Medical College, Amritsar, Punjab, India

Dr. Neeraj Malhotra

MS Orthopaedics Assistant Professor, Department of Orthopaedics, Government Medical College, Amritsar, Punjab, India
Keywords:
Clinical, Uveitis, Pattern, Diagnosis
Abstract
Background: Uveitis encompasses many conditions, all characterized by inflammation of the uveal tract either directly or indirectly. It can occur at any age but predominantly affects patients in the working-age group.
Objective: To report the clinical pattern of Uveitis in North India.
Settings and Design: A prospective study in a regional eye institute.
Methods: After taking informed consent, 100 patients with Uveitis aged 20–60 years were recruited from eye OPD between 2012- 2014. Detailed history, complete ophthalmic examination, standard diagnostic laboratory tests and radiographic studies wherever required were made.
Statistical analysis used: Descriptive.
Results: The mean age being 41.55 years. There were 57% males and 43% females with 32% acute uveitis and 68% chronic uveitis cases. Anterior Uveitis was seen in 83% of patients, followed by posterior Uveitis (7%), pan-uveitis (6%) and intermediate Uveitis (4%). A definite association with the systemic disease was determined in 27% of cases. The most frequently observed systemic diseases were ankylosing spondylitis, Tuberculosis and herpes zoster ophthalmicus (6% cases each). This was followed by HIV (3%), sarcoidosis (3%), ulcerative colitis (2%) and endophthalmitis (1%). No specific aetiology or association with systemic diseases could be established in 73% of cases. In most cases, the systemic disease was not suspected before eye involvement and was recognized only after the subsequent diagnostic procedures.
Conclusion: The etiological diagnosis of Uveitis is often challenging as there are marked variations in ocular and systemic signs and symptoms. A significant number of cases may unfold with the evolution of advanced techniques.
Downloads
Download data is not yet available.
References
Nussenblatt RB. The natural history of Uveitis. Int Ophthalmol. 1990 Oct;14(5-6):303-8. doi: 10.1007/BF00163549.
Suttorp-Schulten MS, Rothova A. The possible impact of Uveitis in blindness: a literature survey. Br J Ophthalmol. 1996 Sep;80(9):844-8. doi: 10.1136/bjo.80.9.844.
Darrell RW, Wagener HP, Kurland LT. Epidemiology of Uveitis. Incidence and prevalence in a small urban community. Arch Ophthalmol. 1962 Oct;68:502-14. doi: 10.1001/archopht.1962.00960030506014.
Vadot, E., E. Barth, and P. Billet. Epidemiology of uveitis-preliminary-results of a prospective-study in savoy. acta ophthalmologica. Dept ohpthalmology, dk-8000 aarhus, denmark: arhus univ hospital, 1984.
Baarsma GS. The epidemiology and genetics of endogenous Uveitis: a review. Curr Eye Res. 1992;11 Suppl:1-9. doi: 10.3109/02713689208999505.
Tran VT, Auer C, Guex-Crosier Y, Pittet N, Herbort CP. Epidemiology of Uveitis in Switzerland. Ocul Immunol Inflamm. 1994;2(3):169-76. doi: 10.3109/09273949409057073.
Dandona L, Dandona R, John RK, McCarty CA, Rao GN. Population based assessment of Uveitis in an urban population in southern India. Br J Ophthalmol. 2000 Jul;84(7):706-9. doi: 10.1136/bjo.84.7.706.
Jabs DA, Nussenblatt RB, Rosenbaum JT; Standardization of Uveitis Nomenclature (SUN) Working Group. Standardization of uveitis nomenclature for reporting clinical data. Results of the First International Workshop. Am J Ophthalmol. 2005 Sep;140(3):509-16. doi: 10.1016/j.ajo.2005.03.057.
Weiner A, BenEzra D. Clinical patterns and associated conditions in chronic Uveitis. Am J Ophthalmol. 1991 Aug 15;112(2):151-8. doi: 10.1016/s0002-9394(14)76694-2.
Nakahara H, Kaburaki T, Takamoto M, Okinaga K, Matsuda J, Konno Y, et al. Statistical analyses of Endogenous Uveitis Patients (2007-2009) in central Tokyo area and Comparison with Previous Studies (1963-2006). Ocul Immunol Inflamm. 2015 Aug;23(4):291-296. doi: 10.3109/09273948.2014.920036.
Goto H, Mochizuki M, Yamaki K, Kotake S, Usui M, Ohno S. Epidemiological survey of intraocular inflammation in Japan. Jpn J Ophthalmol. 2007 Jan-Feb;51(1):41-4. doi: 10.1007/s10384-006-0383-4.
Keino H, Nakashima C, Watanabe T, Taki W, Hayakawa R, Sugitani A, Okada AA. Frequency and clinical features of intraocular inflammation in Tokyo. Clin Exp Ophthalmol. 2009 Aug;37(6):595-601. doi: 10.1111/j.1442-9071.2009.02102.x.
Nakahara H, Kaburaki T, Tanaka R, Takamoto M, Ohtomo K, Karakawa A, et al. Frequency of Uveitis in the Central Tokyo Area (2010-2012). Ocul Immunol Inflamm. 2017;25(sup1):S8-S14. doi: 10.3109/09273948.2015.1133840.
Miettinen R. Incidence of Uveitis in Northern Finland. Acta Ophthalmol (Copenh). 1977 Apr;55(2):252-60. doi: 10.1111/j.1755-3768.1977.tb 01306.x.
Deschenes J, Murray PI, Rao NA, Nussenblatt RB; International Uveitis Study Group. International Uveitis Study Group (IUSG): clinical classification of Uveitis. Ocul Immunol Inflamm. 2008 Jan-Feb;16(1):1-2. doi: 10.1080/09273940801899822.
London NJ, Rathinam SR, Cunningham ET Jr. The epidemiology of Uveitis in developing countries. Int Ophthalmol Clin. 2010 Spring;50(2):1-17. doi: 10.1097/IIO.0b013e3181d2cc6b.
Rathinam SR, Namperumalsamy P. Global variation and pattern changes in the epidemiology of Uveitis. Indian J Ophthalmol. 2007 May-Jun;55(3):173-83. doi: 10.4103/0301-4738.31936.
Shams, Hormoz, et al. Epidemiology and prevalence of Uveitis: a literature review. 2009: 4-16.
Mercanti A, Parolini B, Bonora A, Lequaglie Q, Tomazzoli L. Epidemiology of endogenous uveitis in north-eastern Italy. Analysis of 655 new cases. Acta Ophthalmol Scand. 2001 Feb;79(1):64-8. doi: 10.1034/j.1600-0420.2001.079001064.x.
Khairallah M, Yahia SB, Ladjimi A, Messaoud R, Zaouali S, Attia S, et al. Pattern of uveitis in a referral centre in Tunisia, North Africa. Eye (Lond). 2007 Jan;21(1):33-9. doi: 10.1038/sj.eye.6702111.
Singh R, Gupta V, Gupta A. Pattern of Uveitis in a referral eye clinic in north India. Indian J Ophthalmol. 2004 Jun;52(2):121-5.
Das D, Bhattacharjee H, Bhattacharyya PK, Jain L, Panicker MJ, Das K, et al. Pattern of Uveitis in North East India: a tertiary eye care center study. Indian J Ophthalmol. 2009 Mar-Apr;57(2):144-6. doi: 10.4103/0301-4738.45506.
Shirahama S, Kaburaki T, Nakahara H, Tanaka R, Takamoto M, Fujino Y, et al. Epidemiology of Uveitis (2013-2015) and changes in the patterns of Uveitis (2004-2015) in the central Tokyo area: a retrospective study. BMC Ophthalmol. 2018 Aug 2;18(1):189. doi: 10.1186/s12886-018-0871-6.
Zheng Y, Zhang LX, Meng QL, Zhang M, Cui Y, Liu QY, et al. Clinical patterns and characteristics of Uveitis in a secondary hospital in southern China. Int J Ophthalmol. 2015 Apr 18;8(2):337-41. doi: 10.3980/j.issn.2222-3959.2015.02.22.
Biswas J, Narain S, Das D, Ganesh SK. Pattern of Uveitis in a referral uveitis clinic in India. Int Ophthalmol. 1996-1997;20(4):223-8. doi: 10.1007/BF00175264.
Jones NP. The Manchester Uveitis Clinic: the first 3000 patients--epidemiology and casemix. Ocul Immunol Inflamm. 2015 Apr;23(2):118-26. doi: 10.3109/09273948.2013.855799.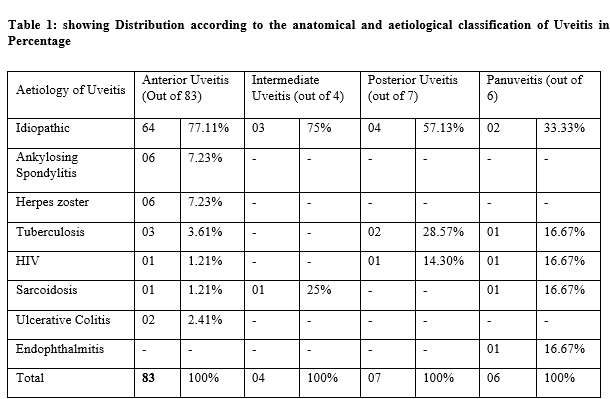 CITATION
DOI: 10.17511/jooo.2021.i04.02
How to Cite
Dr. Pratibha Malhotra, Dr. Mandeep Kaur, Dr. Inderjit Kaur, Dr. Prempal Kaur, & Dr. Neeraj Malhotra. (2021). Clinical patterns of Uveitis in a Regional Eye Institute of North India. Tropical Journal of Ophthalmology and Otolaryngology, 6(4), 62-68. https://doi.org/10.17511/jooo.2021.i04.02
Copyright (c) 2021 Author (s). Published by Siddharth Health Research and Social Welfare Society
This work is licensed under a Creative Commons Attribution 4.0 International License.