Incidence, management, and outcome of complex cataracts in a tertiary eye set up
Dr. Ritu Verma

Cornea and Cataract Consultant, Department of Ophthalmology, Choithram Netralaya, Shriram Talawali, Dhar Road, Indore, Madhya Pradesh, India

Dr. Meghna Shrishrimal

Senior Resident, Department of Ophthalmology, Choithram Netralaya, Shriram Talawali, Dhar Road, Indore, Madhya Pradesh, India

Dr. Shirali Gokharu

DNB Resident, Department of Ophthalmology, Choithram Netralaya, Shriram Talawali, Dhar Road, Indore, Madhya Pradesh, India

Dr. Dhaivat Shah

Vitreoretina Consultant, Department of Ophthalmology, Choithram Netralaya, Shriram Talawali, Dhar Road, Indore, Madhya Pradesh, India
Keywords:
Complex cataracts, Intraoperative Manipulations, Visual outcome
Abstract
Aim: To study the incidence, management, and outcome of complex cataract cases in a tertiary eye care center.
Material and methods: Retrospective observational study with analysis of records done for patients who were operated on for complex cataract from December 2019 to February 2020.
Results: 300/10,000 patients had complex cataracts requiring additional surgical skills, advanced equipment, and better patient counseling. 5.3% (16/300) of patients needed intracameral adrenaline whereas 1.3% (4/300) needed Visco mydriasis. A capsular tension ring was implanted in 4.3%(13/300) of patients. 4% (12/300) underwent sphincterotomies whereas 2% (6/300) had to undergo synechiolysis. Iris hooks were used in only 0.6% of patients (2/300). Posterior capsular rent was seen in 1.6%(5/300) which was managed by placing a Posterior chamber IOL in the sulcus. 2.6% (8/300) had implantation of the iris-claw lens and 2.3% (7/300) were left aphakic for secondary IOL to be implanted at a later date. The visual outcome was better than 6/18 in 76% of patients. 24% of patients had an improvement in their visual acuity by a line or 2 but was less than 6/18 due to corneal degenerations, corneal scarring, Retinal pathologies, and colobomas.
Conclusion: Although these cataracts demand more expertise on behalf of the surgeon, the outcome can be very rewarding if done with proper planning. The knowledge of small incision cataract surgery is highly valuable in such situations.
Downloads
Download data is not yet available.
References
Aravind S, Haripriya A, Sumar Taranum BS. Cataract surgery and intraocular lens manufacturing in India Curr Opin Ophthalmol. 2008;19(1):60-65. doi: 10.1097/ICU.0b013e3282f2aaed.
National Program for Control of Blindness: State wise targets and achievements for various eye diseases during 2012–13.
Gudlavalleti VS Murthy, BK Jain, BR Shamanna, and D Subramanyam. Improving cataract services in the Indian context. Community Eye Health. 2014;27(85):4-5.
Gogate P Wood M. Recognising 'high-risk' eyes before cataract surgery. Community Eye Health. 2008;21(65):12-14.
Nordlund ML, Sugar A, Moroi SE. Phacoemulsification and intraocular lens placement ineyes with cataract and congenital coloboma:visual acuity and complication. J Cataract Refract Surg. 2000;26(7):1035-1040. doi: 10.1016/s0886-3350(00)00433-8.
Joon-Hyun Kim, Min-Ho Kang, Sung-Min Kang, Byung-Joo Song. A Modified Iris Repair Technique and Capsular Tension Ring Insertion in a Patient with Coloboma with Cataracts. Korean J Ophthalmol. 2006;20(4):246-249. doi: 10.3341/kjo.2006.20.4.246.
Sen AC, Kohli GM, Ashish Mitra,ShubhiTripathi, Sachin B Shetty, and Sonal Gupta. Pars-plana vitrectomy with phacofragmentation for hyperdense cataracts in eyes with severe microcornea and chorio-retinal coloboma: A novel approach.Indian J Ophthalmol. 2020;68(1):91-98. doi: 10.4103/ijo.IJO_405_19.
Alekseev BN, Sibai SA. Opredelenietermina "oslozhnennyekatarakty" [Definition of the term "complicated cataracts"]. Vestn Oftalmol. 1996;112(4):26-27.
Agrawal R, Murthy S, Ganesh SK, Phaik CS, Sangwan V, Biswas J. Cataract Surgery in Uveitis. Int J Inflam 2012;548453.doi: 10.1155/2012/548453.
Thevi T, Abas AL. Intraoperative and postoperative complications of cataract surgery in eyes with pseudoexfoliation – An 8-year analysis. Oman J Ophthalmol.2019;12(3):160-165. doi: 10.4103/ojo.OJO_238_2018.
Sangal N, Chen TC. Cataract surgery in pseudoexfoliation syndrome. Semin Ophthalmol. 2014;29(5-6):403-408. doi: 10.3109/08820538.2014.959189.
Clarke CC. "Ectopia lentis: a pathologic and clinical study." Arch Ophthalmol. 1939;21(1):124-153. doi:10.1001/archopht.1939.00860010140014.
Kim EJ, Berg JP, Weikert MP, Kong L, Hamill MB, Koch DD et al. Scleral-fixated capsular tension rings and segments for ectopia lentis in children. Am J Ophthalmol 2014;158(5):899–904. doi: 10.1016/j.ajo.2014.08.002.
S Khokhar, N Aron,N Yadav, G Pillay, and E Agarwal. Modified technique of endocapsular lens aspiration for severely subluxated lenses. Eye (Lond) 2018;32(1):128-135. doi: 10.1038/eye.2017.160.
Vasavada AR, Vasavada AV. Managing the posterior polar cataract: An update.Indian J Ophthalmol. 2017;65(12):1350-1358. doi: 10.4103/ijo.IJO_707_17.
Khanna R, Pujari S, Sangwan V. Cataract surgery in developing countries. Curr Opin Ophthalmol. 2011;22(1):10-14. doi: 10.1097/ICU.0b013e3283414f50.
Joshi RS. Primary posterior capsular opacification in Indian rural population undergoing cataract surgery for hypermature senile cataract. Clin Ophthalmol. 2013;7:1605-1608. doi: 10.2147/OPTH.S49396.
Joshi RS, Singanwad SV. Frequency and surgical difficulties associated with pseudoexfoliation syndrome among Indian rural population scheduled for cataract surgery: Hospital-based data. Indian J Ophthalmol. 2019;67(2):221-226. doi: 10.4103/ijo.IJO_931_18.
Scorolli D, Campos EC, Bassein L, Meduri RA. Pseudoexfoliation syndrome. A cohort study on intraoperative complications in cataract surgery. Ophthalmologica. 1998;212(4):278-280. doi: 10.1159/000027307.
Sastry PV, Singal AK. Cataract surgery outcome in patients with non-glaucomatous pseudoexfoliation.Rom J Ophthalmol. 2017;61(3):196-201. doi: 10.22336/rjo.2017.36.
Hua X, Dong Y, Wang L, Li Z, Du J, Chi W, et al. Intraocular lens implantation performed first to protect the posterior capsule in Morgagnian cataracts during phacoemulsification. Int J Ophthalmol. 2019;12(7):1215-1218. doi: 10.18240/ijo.2019.07.25.
Sato M, Mizushima Y, Oshika T. Visco-shell technique with sodium hyaluronate 2.3% in phacoemulsification of Morgagnian cataract. J Cataract Refract Surg. 2008;34(11):1824-1827. doi: 10.1016/j.jcrs.2008.05.064.
Parkash RO, Mahajan S, Parkash TO, Nayak V. Intraocular lens scaffold technique to prevent posterior capsule rupture in cases of Morgagnian cataract. J Cataract Refract Surg. 2017;43(1):8–11. doi: 10.1016/j.jcrs.2016.12.008.
M F al Faran.Visual outcome and complications after cataract extraction in Saudi Arabia. Br J Ophthalmol.1990;74(3):141-143. doi: 10.1136/bjo.74.3.141.
Salem M AL, Ismail L. Factors influencing visual outcome after cataract extraction among Arabs in Kuwait.Br J Ophthalmol. 1987;71(6):458-461. doi: 10.1136/bjo.71.6.458.
Bartlett JD, Miller KM. Phacoemulsification techniques for patients with small pupils. Compr Ophthalmol Update. 2003;4:171-176.
Malyugin B. Cataract surgery in small pupils. Indian J Ophthalmol. 2017;65(12):1323-1328. doi: 10.4103/ijo.IJO_800_17.
Vasavada AR, Singh R. Phacoemulsification with posterior polar cataract. J Cataract Refract Surg. 1999;25(2):238-245. doi: 10.1016/s0886-3350(99)80133-3.
Osher RH, Yu BC, Koch DD. Posterior polar cataracts: a predisposition to intraoperative posterior capsular rupture. J Cataract Refract Surg. 1990;16(2):157-162. doi: 10.1016/s0886-3350(13)80724-9.
Masket S. Consultation Section. J Cataract Refract Surg. 1997;23(10):819–824.
Hayashi K, Hayashi H, Nakao F, Hayashi F. Outcomes of surgery for posterior polar cataract. J Cataract Refract Surg. 2003;29(1):45-49. doi: 10.1016/s0886-3350(02)01692-9.
Allen D, Wood C. Minimizing risk to the capsule during surgery for posterior polar cataract. J Cataract Refract Surg. 2002;28(5):742-744. doi: 10.1016/s0886-3350(02)01244-0.
Lee MW, Lee YC. Phacoemulsification of posterior polar cataracts- a surgical challenge. Br J Ophthalmol. 2003;87(11):1426-1427. doi: 10.1136/bjo.87.11.1426-a.
Fine IH, Packer M, Hoffman RS. Management of posterior polar cataract. J Cataract Refract Surg. 2003;29(1):16-19. doi: 10.1016/s0886-3350(02)01616-4.
Chu CJ, Dick AD, Johnston RL, Yang YC, Denniston AK UK Pseudophakic Macular Edema Study Group. Cataract surgery in uveitis: A multicentre database study. Br J Ophthalmol. 2017;101(8):1132-1137. doi: 10.1136/bjophthalmol-2016-309047.
Liu X, Zhao C, Xu T, Gao F, Wen X, Wang M, et al. Visual prognosis and associated factors of phacoemulsification and intraocular lens implantation in different uveitis entities in Han Chinese. Ocul Immunol Inflamm. 2017;25(3):349-355. doi: 10.3109/09273948.2015.1125512.
Kosker M, Sungur G, Celik T, Unlu N, Simsek S. Phacoemulsification with intraocularlens implantation in patients with anterior uveitis. J Cataract Refract Surg. 2013;39(7):1002-1007. doi: 10.1016/j.jcrs.2013.02.053.
Chan NSC, Seng-EiTi, Soon-Phaik Chee. Decision-making and management of uveitic cataract. Indian J Ophthalmol. 2017;65(12):1329-1339. doi: 10.4103/ijo.IJO_740_17.
Shah M, Shah S, Shah S, Prasad V, Parikh A. Visual recovery and predictors of visual prognosis after managing traumatic cataracts in 555 patients. Indian J Ophthalmol. 2011;59(3):217-222. doi: 10.4103/0301-4738.81043.
Synder A, Kobielska D, Omulecki W. Intraocular lens implantation in traumatic cataract. KlinOczna. 1999;101(5):343-346.
Gradin D, Yorston D. Intraocular lens implantation for traumatic cataract in children in East Africa. J Cataract Refract Surg. 2001;27(12):2017-2025. doi: 10.1016/s0886-3350(01)00823-9.
LacmanovicLoncar V, Petric I. Surgical treatment, clinical outcomes, and complications of traumatic cataract: Retrospective study. Croat Med J. 2004;45(3):310-313.
Goel R, Kamal S, Kumar S, Kishore J, Malik KPS, Bodh SA, et al. Feasibility and Complications between Phacoemulsification and Manual Small Incision Surgery in Subluxated Cataract. J Ophthalmol. 2012;205139. doi: 10.1155/2012/205139.
Xiao Ma, Zhaohui Li. Capsular tension ring implantation after lens extraction for management of subluxated cataracts. Int J Clin Exp Pathol. 2014 Jun 15;7(7):3733-3738.
Jacob S, Agarwal A, Agarwal A, Agarwal S, Patel N, Lal V. Efficacy of a capsular tension ring for phacoemulsification in eyes with zonular dialysis. J Cataract Refract Surg. 2003;(2):315-321. doi: 10.1016/s0886-3350(02)01534-1.
Georgopoulos GT, Papaconstantinou D, Georgalas I, Koutsandrea CN, Margetis I, Moschos MM. Management of large traumatic zonular dialysis with phacoemulsification and IOL implantation using the capsular tension ring. Acta Ophthalmol Scand. 2007;85(6):653-657. doi: 10.1111/j.1600-0420.2007.00901.x.
Gurler B, Coskun E, Okumus S1, Pinero DP, Ozcan E1, Erbagci I. Surgical outcomes of isolated lens coloboma with or without cataract among young adults. Can J Ophthalmol. 2014;49(2):145-151. doi: 10.1016/j.jcjo.2013.12.004.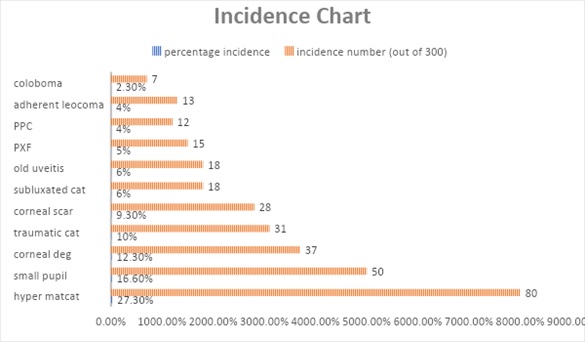 CITATION
DOI: 10.17511/jooo.2020.i08.02
How to Cite
Dr. Ritu Verma, Dr. Meghna Shrishrimal, Dr. Shirali Gokharu, & Dr. Dhaivat Shah. (2020). Incidence, management, and outcome of complex cataracts in a tertiary eye set up. Tropical Journal of Ophthalmology and Otolaryngology, 5(8), 207-215. https://doi.org/10.17511/jooo.2020.i08.02
Copyright (c) 2021 Author (s). Published by Siddharth Health Research and Social Welfare Society
This work is licensed under a Creative Commons Attribution 4.0 International License.