Wriggly creatures coming out of eye: case report on human ocular thelaziasis
Dr. Anchal Tripathi

Senior Resident, Department of Ophthalmology, LLRH, GSVM Medical College, Kanpur, Uttar Pradesh, India

Dr. Sonali Bhalla

Assistant Professor, Department of Ophthalmology, LLRH, GSVM Medical College, Kanpur, Uttar Pradesh, India
Keywords:
Thelazia callipaeda, Thelaziasis, Zoonotic disease
Abstract
Ocular Thelaziasis is an arthropod-borne, zoonotic disease of the eye affecting the conjunctival sac, lacrimal duct, and lacrimal gland caused by a nematode of the genus Thelazia. Thelazia species are transmitted by different species of Muscidae, which are a family of flies with worldwide distribution. The present study reports a case of human ocular Thelaziasis in a 13-year-old female patient. Species Thelazia callipaeda was confirmed based on microbiological examination. The patient was treated with anti-helminthic drugs and was relieved of the symptoms without recurrence.
Downloads
Download data is not yet available.
References
Otranto D, Dutto M. Human thelaziasis, Europe. Emerg Infect Dis. 2008;14(4):647-649. doi: 10.3201/eid1404.071205.
Viriyavejakul P, Krudsood S, Monkhonmu S, Punsawad C, Riganti M, Radomyos P. Thelazia callipaeda: a human case report. Southeast Asian J Trop Med Public Health. 2012;43(4):851-856.
Mihalca AD, D'Amico G, Scurtu I, Chirilă R, Matei IA, Ionică AM. Further spreading of canine oriental eyeworm in Europe: first report of Thelazia callipaeda in Romania. Parasite Vectors. 2015;8(1):48. doi: 10.1186/s13071-015-0663-2.
Otranto D, Traversa D. Thelazia eyeworm: an original endo- and ecto-parasitic nematode. Trends Parasitol. 2005;21 (1):1-4. doi: 10.1016/j.pt.2004.10.008.
De NV, Le TH, Chai JY. The first human case of Thelazia callipaeda infection in Vietnam. Korean J Parasitol. 2012;50(3):221-223. doi: 10.3347/kjp.2012.50.3.221.
Otranto D, Lia RP, Buono V, Traversa D, Giangaspero A. Biology of Thelazia callipaeda (Spirurida, Thelaziidae) eyeworms in naturally infected definitive hosts. Parasitol. 2004;129(5):627. doi: 10.1017/s0031182004006018.
Vieira L, Rodrigues FT, Costa Á, Diz-Lopes D, Machado J, Coutinho T, et al. First report of canine ocular thelaziosis by Thelazia callipaeda in Portugal. Parasit Vectors 2012;5 (1):124. doi: 10.1186/1756-3305-5-124.
Naem S. Thelazia species and conjunctivitis. In: Pelikan, Z, editors. , ed. Conjuctivitis—A Complex and Multifaceted Disorder. Croatia, Europe: INTECH open science/open minds; 2011:201–32, chapter 13.
Yang YJ, Liag TH, Lin SH, Chen HC, Lai SC. Human thelaziasis occurrence in Taiwan. Clin Exp Optom 2006;89(1):40-44. doi: 10.1111/j.1444-0938.2006.00008.x.
Bradbury RS, Breen KV, Bonura EM, Hoyt JW, Bishop HS. Case report: Conjunctival infestation with Thelazia gulosa: a novel agent of human thelaziasis in the United States. Am J Trop Med Hyg. 2018; 98(4):1171–1174. doi: 10.4269/ajtmh.17-0870.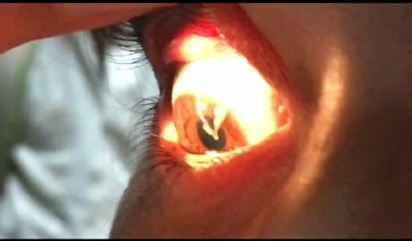 CITATION
DOI: 10.17511/jooo.2020.i08.05
How to Cite
Dr. Anchal Tripathi, & Dr. Sonali Bhalla. (2020). Wriggly creatures coming out of eye: case report on human ocular thelaziasis. Tropical Journal of Ophthalmology and Otolaryngology, 5(8), 250-253. https://doi.org/10.17511/jooo.2020.i08.05
Copyright (c) 2021 Author (s). Published by Siddharth Health Research and Social Welfare Society
This work is licensed under a Creative Commons Attribution 4.0 International License.