Change to win - flapless external dacryocystorhinostomy (DCR)
Dr. Ravi Ranjan

Awadh Medicare, Bikramganj, Bihar, India

Dr. Kumari Rupam

Consultant, Awadh Medicare, Bikramganj, Bihar, India

Dr. Sudhir Kumar

Associate Professor, Government Medical College, Bettiah, Bihar, India
Keywords:
Nasolacrimal Duct obstruction (NLDO), Flapless external Dacryocystorhinostomy(DCR), Arruga's bone trephine, Mitomycin c syringing
Abstract
Introduction: Nasolacrimal Duct obstruction (NLDO) is a common ophthalmic problem and the usual Treatment is Dacryocystorhinostomy (DCR), either external or endonasal. This study aims to evaluate the success of external DCR with neither anterior nor posterior flaps with Mitomycin c (MMC) syringing on the 5th post-operative day (early proliferative phase of wound healing). It was shown in the present study that a comparable good result can be achieved without tedious flaps making and anastomosis.
Material and Methods: It is a retrospective, non-comparative observational Case series study done from March 2011 to August 2019. A total of 2165 patients were included in this study qualifying inclusion criterion. 8 to 10 mm Arruga's bone trephine was used to make osteum in lacrimal bone and passage in the nasal mucosa. The anterior margin of the lateral side of the remaining sac was sutured to the subcutaneous tissue of the medial side adjacent to the nasal osteotomy. Syringing with 1 ml of 0.4 mg/ ml MMC was done in the newly formed passage on the 5th post-operative day. These patients were followed up for one year. The success criteria were symptomatic relief from epiphora subjectively. Objectively a patent nasolacrimal duct upon syringing and Nasal endoscopy.
Results: 2136 (out of 2165) patients' eyes treated with this procedure showed resolution of epiphora with a success rate of 98.66%.
Conclusion: The current study suggest that DCR without flap making is an effective and easy procedure in the management of NLDO obstruction and flap making is a futile step in the procedure as it has no impact on the outcome.
Downloads
Download data is not yet available.
References
Toti A. Nuovo metodo conservatore di cura radicale dellesuppurazioni croniche del sacco lacrimale
(dacriocistorinostomia). Clin Mod Fir. 1904;10:385-387.
Dupuy-Dutemps L, Bourguet J. Procede plastique de dacryocystorhinostomie et ses resultats. Ann Ocul. 1921;158:241-261.
Pei-Yuan Su. Comparison of endoscopic and external dacryocystorhinostomy for treatment of primary acquired nasolacrimal duct obstruction. Taiwan J Ophthalmol. 2018; 8(1):19-23. doi: 10.4103/tjo.tjo_10_18.
Ranjan R. There Is No Use Crying Over Failed Dacryocystorhinostomy (DCR): The Management of Unsuccessful Lacrimal Surgery Oculoplastics, Lacrimal System and Orbit. FP-TH-14-8/WOC. 2014 Tokyo.
Munk PL, Lin DT, Morris DC. Epiphora: treatment by means of dacryocystoplasty with balloon dilation of the nasolacrimal drainage apparatus. Radiol. 1990;177(3):687-690. doi: 10.1148/radiology.177.3.2243969.
Shigeta K, Takegoshi H, Kikuchi S. Sex and age differences in the bony nasolacrimal canal: An anatomical study. Arch Ophthalmol. 2007;125(12):1677-1681. doi: 10.1001/archopht.125.12.1677.
Bartley GB. Acquired lacrimal drainage obstruction: An etiologic classification system, case reports, and a review of the literature. Part 1. Ophthal Plast Reconstr Surg. 1992;8(4):237-242.
Eshraghi B, Abdi P, Akbari M, Fard MA. Microbiologic spectrum of acute and chronic dacryocystitis. Int J Ophthalmol. 2014;7(5):864-867. doi: 10.3980/j.issn.2222-3959.2014.05.23.
Mohamed Al-Taher A.A. Flapless external dacryocystorhinostomy (DCR): do flaps really matter?. AAMJ. 2012;10(3).
Akcay E, Yuksel N, Ozen U. Revision External Dacryocystorhinostomy Results After a Failed Dacryocystorhinostomy Surgery Ophthalmol Ther. 2016;5(1):75-80. doi: 10.1007/s40123-016-0048-4.
Singh T, Lade H, Natesh V. Role of Mitomycin-C in Prevention of Post-Operative Adhesions After Endoscopic Sinus Surgery––A Prospective Study. Indian J Otolaryngol Head Neck Surg. 2011;63(3):249-254. doi: 10.1007/s12070-011-0145-6.
Deka A, Bhattacharjee K, Bhuyan SK, Barua CK, Bhattacharjee H, Khaund G. effect of mitomycin C on ostium in dacryocystorhinostomy. Clin Experiment Ophthalmol. 2006;34(6):557-561. doi: 10.1111/j.1442-9071.2006.01265.x.
Lee JJ, Park KH, Youn DH. The effect of low-and high-dose adjunctive mitomycin C in trabeculectomy. Korean J Ophthalmol. 1996;10(1):42-47. doi: 10.3341/kjo.1996.10.1.42.
Cokkeser Y, Evereklioglu C, Er H. Comparative externalversus endoscopic dacryocystorhinostomy: result in 115 patients (130 eyes) Otolaryngol Head Neck Surg. 2000;123(4):488–491. doi: 10.1067/mhn.2000.105470.
Ben Simon GJ, Joseph J, Lee S. External versus endoscopic dacryocystorhinostomy for acquired nasolacrimal duct obstruction in a tertiary referral center. Ophthalmology. 2005;112(8):1463-1468. doi: 10.1016/j.ophtha.2005.03.015.
Sharma BR. Non-endoscopic endonasal dacryocystorhinostomy versus external dacryocystorhinostomy. Kathmandu Univ Med J. 2008;6(24):437–442. doi: 10.3126/kumj.v6i4.1731.
Akaishi PM, Mano JB, Pereira IC, Cruz AA. Functional and cosmetic results of a lower eyelid crease approach for external dacryocystorhinostomy. Arq Bras Oftalmol. 2011;74(4):283-285. doi: 10.1590/s0004-27492011000400011.
Karim R, Ghabrial R, Lynch TF, Tang B. A comparison of external and endoscopic endonasal dacryocystorhinostomy for acquired nasolacrimal duct obstruction. Clin Ophthalmol. 2011;5:979-989. doi: 10.2147/OPTH.S19455.
Dolman PJ. Comparison of external dacryocystorhinostomy with nonlaser endonasal dacryocystorhinostomy. Ophthalmology. 2003;110(1):78-84. doi: 10.1016/s0161-6420(02)01452-5.
Zaidi FH, Symanski S, Olvera JM. Clinical trial of endoscopic vs external dacryocystorhinostomy for partial nasolacrimal duct obstruction. Eye. 2011;25(9):1219-1224. doi: 10.1038/eye.2011.77.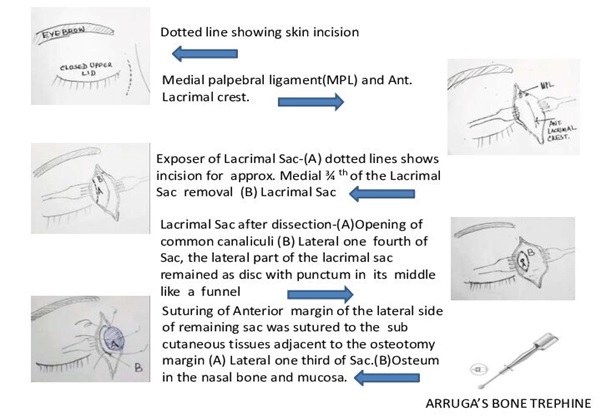 CITATION
DOI: 10.17511/jooo.2020.i08.04
How to Cite
Dr. Ravi Ranjan, Dr. Kumari Rupam, & Dr. Sudhir Kumar. (2020). Change to win - flapless external dacryocystorhinostomy (DCR). Tropical Journal of Ophthalmology and Otolaryngology, 5(8), 224-230. https://doi.org/10.17511/jooo.2020.i08.04
Copyright (c) 2021 Author (s). Published by Siddharth Health Research and Social Welfare Society
This work is licensed under a Creative Commons Attribution 4.0 International License.