Bilateral subluxation of the lens in a case of sporadic Marfan syndrome
Dr. Tharini Senthamizh

Senior Resident, Department of Ophthalmology, JIPMER, Puducherry, India

Dr. Malavika Mani

Senior Resident, Department of Ophthalmology, JIPMER, Puducherry, India

Dr. Ramesh Babu

Professor, Department of Ophthalmology, JIPMER, Puducherry, India
Keywords:
Sporadic, Lens Subluxation, Marfan Syndrome
Abstract
Marfan syndrome (MFS) is an autosomal dominant disorder caused by a fibrillin-1 gene mutation (FBN1). Atypical MFS is caused by inactivating mutations in transforming growth factor β receptor (TGFβR). About 30% of cases of MFS do not have a family history.
Downloads
Download data is not yet available.
References
Hilhorst-Hofstee Y, Rijlaarsdam ME, Scholte AJ, Berg MS, Versteegh MM, Velzen IS, et al. The clinical spectrum of missense mutations of the first aspartic acid of cbEGF-like domains in fibrillin-1 including a recessive family. Hum Mutat. 2010;31(12):E1915-27. doi:10.1002/humu.21372.
Mizuguchi T, Collod-Beroud G, Akiyama T, Abifodel M, Harada N, Morisaki T, et al. Heterozygous TGFBR2 mutations in Marfan syndrome. Nat Genet. 2004;36(8):855-860. doi:10.1038/ng1392.
Madar L, Szakszon K, Pfliegler G, Szabo GP, Brugos B, Ronen N, et al. FBN1 gene mutations in 26 Hungarian patients with suspected Marfan syndrome or related fibrillinopathies. J Biotechnol. 2019;301:105-111. doi:10.1016/j.jbiotec.2019.05.012.
Waduthantri S. Ocular manifestations of Marfan syndrome. Med J DY Patil Univ 2017;10(2):118-119. doi:10.4103/0975-2870.202118.
Loeys BL, Dietz HC, Braverman AC, Callewaert BL, Backer JD, Devereux RB, et al. The revised Ghent nosology for the Marfan syndrome. J Med Genet. 2010;47(7):476-485. doi: 10.1136/jmg.2009.072785.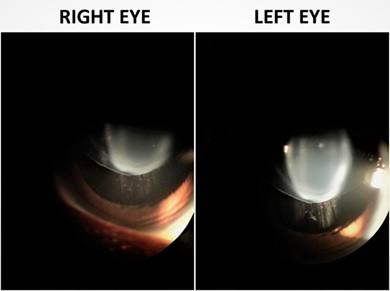 How to Cite
Dr. Tharini Senthamizh, Dr. Malavika Mani, & Dr. Ramesh Babu. (2020). Bilateral subluxation of the lens in a case of sporadic Marfan syndrome. Tropical Journal of Ophthalmology and Otolaryngology, 5(7), 172-173. https://doi.org/10.17511/jooo.2020.i07.01
Copyright (c) 2020 Author (s). Published by Siddharth Health Research and Social Welfare Society
This work is licensed under a Creative Commons Attribution 4.0 International License.