Clinical study and management of the fungal corneal ulceration
Dr. Minal M Patel

Ex-Assistant Professor, Department of Ophthalmology GMERS Medical College, Sola, Ahmedabad, Gujarat, India
Keywords:
Cornea, Fungal Infection, Surgical therapy, Clinical study, Corneal Ulcer
Abstract
Background: The corneal infection of fungal etiology is very common and comprising at least 50% of all culture-positive cases in India. Diagnosis and treatment of fungal corneal ulcers can be quite challenging because of the delay in seeking medical attention due to reduced symptoms in mycotic corneal ulcer and the limited antifungal agents available for ocular use and the deeper extent to which they can penetrate the corneal tissue.
Materials and Methods: A study of 80 cases of fungal corneal ulcers was conducted in General Hospital attached to Medical College. A detailed history was taken and a thorough ocular and systemic examination were done. Microbiological work-up of corneal scrapings was done in all patients. All patients were given necessary topical and systemic antifungal drugs, antiglaucoma drugs, cycloplegics, and surgical treatment wherever needed by different consultants and followed up for a period of 8 weeks.
Results: At the time of presentation 45% of patients had received different medications especially without microbiological workup. All patients were KOH positive and among them, 65% were culture positive. Different topical treatment combinations were used among them natamycin 5% suspension was used in all patients. Therapeutic penetrating keratoplasty and the conjunctival flap was done in one patient each.
Conclusion: Agricultural activity and vegetative matter trauma was the commonest predisposing factor. Following treatment 77.5% ulcers healed with a visually significant corneal opacity, 20 % had perforation all of which were ulcers with full-thickness corneal involvement. In one non-healing ulcer penetrating keratoplasty was done.
Downloads
Download data is not yet available.
References
Jhanji V, Sharma N, Vajpayee RB. Deep Anterior Lamellar Keratoplasty Different Strokes. JP Medical Ltd, 2011.
Jhanji V, Young AL, Mehta JS, Sharma N, Agarwal T, Vajpayee RB. Management of corneal perforation. Surv Ophthalmol. 2011;56(6):522-538. doi: 10.1016/j.survophthal.2011.06.003.
Krüger W, Vielreicher S, Kapitan M, Jacobsen ID, Niemiec MJ. Fungal-bacterial interactions in health and disease. Pathogen. 2019;8(2):70. doi: 10.3390/pathogens8020070.
Charlton BR, Chin R, Barnes HJ. Fungal infections. Dis Poultry. 2008:989-1001. doi: 10.1002/9781119371199.ch25.
Gupta AP, Hake GH, Kumbhalkar DT, Madan A: Clinicopathological study of recipients' corneal tissue excised during penetrating keratoplasty. Best out of waste!. 2018;3(3):116-123. doi: 10.18231/2456-9267.2018.0025.
Kenia VP, Kenia RV, Pirdankar OH. Diagnosis and Management Protocol of Acute Corneal Ulcer. Int J Health Sci Res. 2020;10(3):69-78.
Jisha K, Sreekumari P, Rajesh P, Jacob K, Jayalekha B. Fungal corneal ulcers: a prospective study on the causative fungus and the response to the present treatment protocol. J Evol Med Dent Sci. 2016;5:1822-1827.
Nayak N. Fungal infections of the eye: laboratory diagnosis and treatment. Nepal Med Coll J. 2008;10(1):48-63.
Maharana PK, Sharma N, Nagpal R, Jhanji V, Das S, Vajpayee RB. Recent advances in diagnosis and management of Mycotic Keratitis. Ind J Ophthalmol. 2016;64(5):346. doi: 10.4103/0301-4738.185592.
Khurana S, Agrawal SK, Megha K, Dwivedi S, Jain N, Gupta A. Demographic and clinical profile of microspodial keratitis in North India: an underreported entity. J Parasitic Dis. 2019;43(4):601-606. doi: 10.1007/s12639-019-01134-2.
Nath R, Baruah S, Saikia L, Devi B, Borthakur A, Mahanta J. Mycotic corneal ulcers in upper Assam. Ind J Ophthalmol. 2011;59(5):367-371. doi: 10.4103/0301-4738.83613.
Chowdhary A, Singh K. Spectrum of fungal keratitis in North India. Cornea. 2005;24(1):8-15. doi: 10.1097/01.ico.0000126435.25751.20.
Sharma S, Srinivasan M, George C. Acanthamoeba keratitis in non-contact lens wearers. Arch Ophthalmol. 1990;108(5):676-678. doi: 10.1001/archopht.1990.01070070062035.
Tanure MAG, Cohen EJ, Sudesh S, Rapuano CJ, Laibson PR. Spectrum of fungal keratitis at Wills eye hospital, Philadelphia, Pennsylvania. Cornea. 2000;19(3):307-312. doi: 10.1097/00003226-200005000-00010.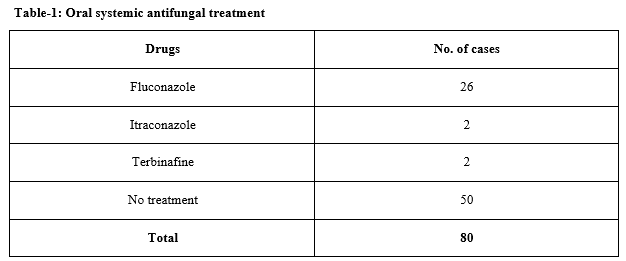 How to Cite
Dr. Minal M Patel. (2020). Clinical study and management of the fungal corneal ulceration. Tropical Journal of Ophthalmology and Otolaryngology, 5(6), 150-155. https://doi.org/10.17511/jooo.2020.i06.06
Copyright (c) 2020 Author (s). Published by Siddharth Health Research and Social Welfare Society
This work is licensed under a Creative Commons Attribution 4.0 International License.