A clinical study on vocal cord paralysis in a tertiary health care setup in Andhra Pradesh, South India
Keywords:
Vocal card, Left, Pathology, Paralysis, Clinical study
Abstract
Introduction: Vocal cords (VCs) are delicate structures situated in the larynx and controlled by a number of muscles. A study was conducted to elucidate the symptoms and signs of VC paralysis and to identify the muscles involved and various systemic illnesses that cause VC paralysis.
Methods: It was a cross-sectional, clinical study, conducted in the department of ENT, GSL Medical College, Rajahmundry. Individuals aged 15 to 75 years, who were cooperative for clinical examination were considered. Extremes of age, unwilling, critically ill, persons with Pulmonary Tuberculosis, HIV positive individuals were excluded. Meticulous tabulation of the symptoms and a thorough history was recorded. Detailed ENT examination including indirect and video laryngoscopy was performed on these patients.
Results: A total of 38 individuals with VC paralysis were included. Gender wise, the male-female ratio was 0.9. Left VC palsy was identified in maximum persons (63.2%). The age group of 41-60 years is common (47%). In left VC palsy, dyspnoea (31.6%) was most common. Among the etiological factors, lung lesions and idiopathic cases accounted for 23.68% each.
Conclusion: Fourth to the sixth decade of life is the commonest age group, females are commonly involved. Left VC paralysis accounted for the maximum number of cases. Hoarseness of voice and dyspnoea are the major symptoms and in about 23.68% cause of paralysis was not known (idiopathic).
Downloads
Download data is not yet available.
References
Mete A, Akbudak IH. Functional Anatomy and Physiology of Airways 2018. doi: 10.5772/intechopen.77037.
Stocker HH, Enterline HT. Cardio-vocal syndrome laryngeal paralysis in intrinsic heart disease. Am Heart J. 1958;56(1):51-59. doi: 10.1016/0002-8703(58)90158-3.
Goff FW. Vocal cord paralysis analysis of 229 cases. JAMA. 1970;212(8):1378-1379. doi: 10.1001/jama.1970.03170210082027.
Toutounchi SJ, Eydi M, Golzari SE, Ghaffari MR, Parvizian N. Vocal Cord Paralysis and its Etiologies: A Prospective Study. J Cardiovasc Thorac Res. 2014;6(1):47-50. doi: 10.5681/jcvtr.2014.009
Gupta J, Varshney S, Bist SS, Bhagat S. Clinico-Etiological Study of Vocal cord paralysis. Ind J Otolaryngol Head Neck Sur. 2013;65(1):16-19. doi: 10.1007/s12070-012-0574-x.
Kashima HK. Documentation of upper airway obstruction in unilateral vocal cord paralysis: flow-volume loop studies in 43 subjects. Laryngocope. 1984;94(7):923-927. doi: 10.1288/00005537-198407000-00013.
Ahmad S, Muzamil A, Lateef M. A Study of incidence and etiopathology of vocal cord paralysis. Ind J Oto Head Neck Surg. 2002;54(4):294-296. doi: 10.1007/BF02993746.
Pavithran J, Menon JR. Unilateral Vocal Cord Paralysis an Etiopathological Study. Ind J Phonosurg Laryngol. 2011;1(1):5-10. doi: 10.5005/jp-journals-10023-1002.
Srivastava RN DS Sardana, VK Dewan. A clinical study of laryngeal paralysis. Ind J Otolaryngol. 1979;31:41. doi: 10.1007/BF02992259.
Kearsley JH. Vocal cord paralysis- an aetiologic review of 100 cases over 20 years. Aust New Zealand J Med. 1981;11(5):663-666. doi: 10.1111/j.1445-5994.1981.tb03543.x.
Tucker HM. Vocal cord paralysis—1979: etiology and management. Laryngoscope. 1980;90(4):585-590. doi: 10.1288/00005537-198004000-00004.
Glazer HS, Aronberg DJ, Lee JK, Sagel SS. Extralaryngeal causes of Vocal cord paralysis: CT evaluation. AJR Am J Roentgenol. 1983;141(3):527-532. doi: 10.1148/rg.323115129.
Cunning Danies. Unilateral Vocal cord paralysis. Ann Otol Rhinol Laryngol. 1955;64(2):487-493. doi: 10.1177/000348945506400218.
Chen HC, Yee-Min Jen, Chih-Hung Wang, Jih-Chin Lee, Yaoh-Shiang Lin. Aetiology of vocal cord paralysis. ORL J Otorhinolaryngol Relat Spec. 2007;69(3):167-171. doi: 10.1159/000099226.
Ko HC, Li-Ang Lee, Hsueh-Yu Li, Tuan-Jen Fang. Etiologic features in patients with Unilateral Vocal fold paralysis in Taiwan. Chang Gung Med J. 2009;32(3):290-296.
Havas T. Unilateral vocal fold paralysis causes, options and outcomes. Aus New Zealand J Sur. 1999;69(7):509-513. doi: 10.1046/j.1440-1622.1999.01613.x.
Yumoto E, Minoda R, Hyodo M, Yamagata T. Causes of recurrent laryngeal nerve paralysis. Auris Nasus Larynx. 2002;29(1):41-45. doi: 10.1016/s0385-8146(01)00122-5.
Rosenthal LH, Michael S Benninger, Robert H Deeb Vocal fold immobility: A longitudinal analysis of etiology over 20 years. Laryngocope 2007;117(10):1864-1870. doi: 10.1097/MLG.0b013e3180de4d49.
Merati AL. Diagnostic testing for vocal fold paralysis: survey of practice and evidence-based medicine review. Laryngocope 2006;116(9):1539-1552. doi: 10.1097/01.mlg.0000234937.46306.c2.
Shin YH, An DA, Choi WJ, Kim YH. Unilateral Vocal cord Paralysis following a short period of Endotracheal Intubation Anaesthesia. Korean J Anaesthesiol. 2013;65(4):357-358. doi: 10.4097/kjae.2013.65.4.357.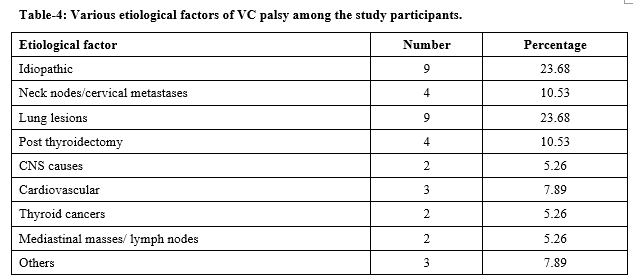 How to Cite
Dr. Yadlapalli Ajay Kumar, Dr. Panda Veeranjaneyulu, Dr. Pindiprolu Kameswari Devi, Dr. Macharla Venkata Harika, & Dr. Adimulam Nareemani. (2020). A clinical study on vocal cord paralysis in a tertiary health care setup in Andhra Pradesh, South India. Tropical Journal of Ophthalmology and Otolaryngology, 5(6), 144-149. https://doi.org/10.17511/jooo.2020.i06.05
Copyright (c) 2020 Author (s). Published by Siddharth Health Research and Social Welfare Society
This work is licensed under a Creative Commons Attribution 4.0 International License.