A case report: bilateral choanal atresia in a nine-year-old female child
Dr. Wahid Shaik

Senior Resident, Department Of Otorhinolaryngology, NRI Academy of Sciences, Mangalagiri, Chinnakakani, Guntur, Andhra Pradesh, India

Dr. Dinesh Aradhyula

Post-Graduate, Department Of Otorhinolaryngology, NRI Academy of Sciences, Mangalagiri, Chinnakakani, Guntur, Andhra Pradesh, India

Dr. Satya Prabhakar Rao Yedluri

Professor Head of The Department, Department Of Otorhinolaryngology, NRI Academy of Sciences, Mangalagiri, Chinnakakani, Guntur, Andhra Pradesh, India
Keywords:
Choanal atresia, Congenital, Choanoplasty
Abstract
Choanal atresia is a rare congenital malformation of the nasal cavity characterized by obliteration of posterior choanae. It can be unilateral or bilateral. Bilateral choanal atresia is one of the life-threatening conditions and survival up to adulthood is rare A 9-year-old female presented to our department with complaints of a bilateral nasal block, nasal discharge, snoring, anosmia, and mouth breathing. Diagnostic nasal endoscopy and computerized tomography of the nose and paranasal sinuses revealed bilateral choanal atresia. Transnasal endoscopic choanoplasty was performed and discharged on postoperative day 7. Postoperative follow up on two weeks showed significant improvement in symptoms and endoscopy revealed bilateral patent posterior choanae. The child with bilateral choanal atresia surviving up to nine years of age is rare. In contrast to unilateral choanal atresia, bilateral choanal atresia is a diagnostic and therapeutic emergency. Diagnostic nasal endoscopy and computerized tomography help in planning surgery. Minimally invasive endoscopic choanoplasty has replaced the transpalatal approach.
Downloads
Download data is not yet available.
References
Tinoco P, Pereira JCO, Lourenço Filho RC, Brito TSC, Pereira BM, Carrara VL, et al. Bilateral choanal atresia in a 34-year-old patient. Int Arch Otorhinolaryngol. 2010;14(4):481-484. doi: 10.1590/S1809-48722010000400018.
Chaudhary N, Jain A, Kapoor R, Motwani G. Bilateral complete choanal atresia in an adult woman--managed with nasal endoscopes. J Indian Med Assoc. 2010;108(2):109-110.
Agha RA, Fowler AJ, Saeta A, Barai I, Rajmohan S, Orgill DP, et al. The SCARE Statement: Consensus-based surgical case report guidelines. Int J Surg. 2016;34:180-186. doi: 10.1016/j.ijsu.2016.08.014.
Ramsden JD, Campisi P, Forte V. Choanal Atresia, and Choanal Stenosis. Otolaryngol Clin North Am. 2009;42(2):339-352. doi: 10.1016/j.otc.2009.01.001.
Kurosaka H, Wang Q, Sandell L, Yamashiro T, Trainor, PA. Rdh10 loss-of-function and perturbed retinoid signaling underlie the etiology of choanal atresia. Hum Mol Genet. 2017;26(7):1268–1279. doi: 10.1093/hmg/ddx031.
Anderhuber W, Stammberger H. Endoscopic surgery of uni-and bilateral choanal atresia. Auris Nasus Larynx. 1997;24(1):13-19. doi: 10.1016/S0385-8146(96)00041-7.
Bangiyev JN, Govil N, Sheyn A, Haupert M, Thottam PJ. Novel application of steroid eluting stents in choanal atresia repair: a case series. Ann Otol, Rhinol Laryngol. 2017;126(1):79-82. doi:10.1177/0003489416671533.
Panda NK, Simhadri S, Ghosh S. Bilateral choanal atresia in an adult: is it compatible with life? J Laryngol Otol. 2004;118(3):244-245.
Aksoy F, Demirhan H, Yildirim YS, Ozturan O. Bilateral choanal atresia in an adult - management with mitomycin C and without stents: a case report. Cases J. 2009;2(1):9307. doi: 10.1186/1757-1626-2-9307.
Verma RK, Lokesh P, Panda NK. Congenital bilateral adult choanal atresia undiagnosed until the second decade: How we did it. Allergy Rhinol (providence). 2016;7(2):82-84. doi: 10.2500/ar.2016.7.0155.
Coniglio JU, Manzione JV, Hengerer AS. Anatomic findings and management of choanal atresia and the CHARGE association. Ann Otol Rhinol Laryngol. 1988;97(5 Pt 1):448-453. doi: 10.1177/000348948809700503
Gawai SA, Mail NJS. Bilateral Complete Congenital Choanal Atresia in an Adult Managed Endoscopically with Mucosal Flaps without Stenting. Otolaryngology Online J [Internet]. 2016;6(3).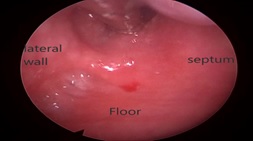 How to Cite
Dr. Wahid Shaik, Dr. Dinesh Aradhyula, & Dr. Satya Prabhakar Rao Yedluri. (2020). A case report: bilateral choanal atresia in a nine-year-old female child. Tropical Journal of Ophthalmology and Otolaryngology, 5(6), 168-171. https://doi.org/10.17511/jooo.2020.i06.09
Copyright (c) 2020 Author (s). Published by Siddharth Health Research and Social Welfare Society
This work is licensed under a Creative Commons Attribution 4.0 International License.