A study on the severity of diabetic retinopathy and macular edema in diabetes mellitus patients on hemodialysis
Dr. C.S. Sandhya

Head of the Department, Department of Ophthalmology, SV Medical College, NTRUHS, Tirupati, Andhra Pradesh, India.

Dr. N G Prasoona Devi

Assistant Professor, Department of Ophthalmology, SV Medical College, NTRUHS, Tirupati, Andhra Pradesh, India

Dr. P. Hema

Resident, Department of Ophthalmology, SV Medical College, NTRUHS, Tirupati, Andhra Pradesh, India.

Dr. S. Deepthi

Resident, Department of Ophthalmology, SV Medical College, NTRUHS, Tirupati, Andhra Pradesh, India

Dr. SK. Sameena

Resident, Department of Ophthalmology, SV Medical College, NTRUHS, Tirupati, Andhra Pradesh, India
Keywords:
Diabetic Macular Edema, Diabetes Mellitus, Diabetic Retinopathy, Hemodialysis
Abstract
Introduction: Diabetes Mellitus (DM) refers to a group of common metabolic disorders that share the phenotype of hyperglycemia. Microvascular abnormalities of DM include both nephropathy and retinopathy. Diabetic retinopathy (DR) tends to deteriorate with failing renal function. Diabetic nephropathy constitutes the most common cause of End Stage Renal Disease (ESRD). ESRD patients require Renal Replacement Therapy (RRT) for survival. Hemodialysis is one of the major methods of RRT.
Aim: Aim of the study is to study the prevalence and severity of DR and Diabetic Macular Edema (DME) in diabetic patients on hemodialysis.
Study Design: A cross sectional observational study.
Methodology:105 diabetic patients undergoing hemodialysis for ESRD were subjected to detailed ophthalmic examination with a special emphasis on fundus examination for DR and macularedema. The severity of diabetic retinopathy and macular edema were graded according to International Clinical Diabetic Retinopathy Severity Scale and International Clinical Diabetic Macular Edema Severity Scale respectively.
Results: In the present study prevalence of DR was 89.8% and prevalence of DME was 23%. Prevalence of Non-Proliferative Diabetic Retinopathy (NPDR) 61.4% was more than Proliferative Diabetic Retinopathy (PDR) 38.6 percent.
Conclusion: The visual morbidity due to PDR and DME was high among the diabetic patients undergoing hemodialysis.
Downloads
Download data is not yet available.
References
Rajput R, Kumar P KM, Seshadri K, Agarwal P, Talwalker P, Kotak B, et al. Prevalence of Chronic Kidney Disease (CKD) in Type 2 Diabetes Mellitus Patients: START-India Study. J Diabetes Metab. 2017;8(2):722. doi: https://doi.org/10.4172/2155-6156.1000722.
Unnikrishnan R, Rema M, Pradeepa R, Deepa M, Shanthirani CS, Deepa R, et al. Prevalence and risk factors of diabetic nephropathy in an urban south indian population the chennai urban rural epidemiology study (cures-45): Diabetes Care. 2007;30(8):2019-2024. doi: https://doi.org/10.2337/dc06-2554.
Jha V. Current Status of end-stage renal disease care in India and Pakistan. Kidney Int Supp. 2013;3(2):157-160. doi: https://doi.org/10.1038/kisup.2013.3.
Varughese S, Abraham G. Chronic Kidney Disease in India: A Clarion Call for Change: CJASN. 2018;13(5):802-804. doi: https://doi.org/10.2215/CJN.09180817
Daniel Albert Joan Miller Dimitri Azar Barbara Blodi. Principles and Practice of Ophthalmology Vol 2. 2nd ed. Philadelphia: WB Saunders 2000;1900-1913.
Wilkinson CP, Ferris FL 3rd, Klein RE, Lee PP, Agardh CD, Davis M, et al. Proposed International Clinical Diabetic Retinopathy and Diabetic Macular Edema Disease Severity Scales: Ophthamol. 2003;110(7):1677-1682. doi: https://doi.org/10.1016/S0161-6420(03)00475-5.
Bajracharya L, Shah DN, Raut KB, Koirala S. Ocular evaluation in patients with chronic renal failure- a hospital based study: Nepal Med Coll J. 2008; 10(4):209-214.
Malleswari B, Irshad R. Eye Findings in Chronic Renal Failure Patients Undergoing Hemodialysis: Int J Contemp Med Res. 2016;3(7):1912-1914.
N Mahmood, SS Chowdhary. Retinopathy and Neuropathy in Patients with End Stage Renal Disease on Hemodialysis- A Hospital Based Study: AKMMC J. 2015;6(1):14-19.
Basit I, Hameed A, Akram A. Frequency of diabetic retinopathy among dialysis patients and their awareness about the need 81for screening to prevent blindness. Pak Armed Forces Med J. 2014;64(1):88-91.
R Vrabec, Vatavuk Z, Pavlović D, Sesar A, Cala S, Mandić K, et al. Ocular Changes in Hemodialysis Patients: Coll Antropol. 2005;29(1):95-98.
Dahal P, Gouli S. Ocular findings in the chronic renal failure: J Coll Med Sci- Nepal. 2014;10(2):18-26.
Mithun Thulasidas and Hrishikesh Amin. Ocular Evaluation in Patients with Chronic Kidney Disease- A Hospital Based Study. J Ophthalmol. 2018, 3(5): 000164.
Jacob JM, Shamjibhai SH, Goudinho SJ. Ocular Findings in Diabetics and Hypertensives Undergoing Hemodialysis: Int J Sci Technol. 2014;2(7):266-274.
Suman S, Chaithanya P. Ocular abnormalities in patients with chronic renal failure on hemodialysis: Indian J App Res. 2018;8(5):1-3. doi: https://www.doi.org/10.36106/ijar.
Jamal S, Ali MH, Ayub MH, Butt NH. Frequency and Grading of Diabetic Retinopathy in Diabetic End Stage Renal Disease Patients: Pak J Ophthalmol. 2016;32(2):64-69.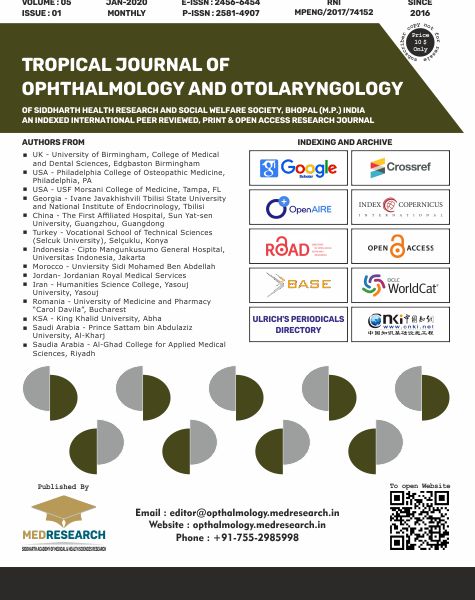 How to Cite
C.S., S., Devi, D. N. G. P., P., H., S., D., & SK., S. (2020). A study on the severity of diabetic retinopathy and macular edema in diabetes mellitus patients on hemodialysis. Tropical Journal of Ophthalmology and Otolaryngology, 5(1), 30-38. https://doi.org/10.17511/jooo.2020.i01.06