Foreign bodies of the external auditory canal in children
Dr. Khetawat Ravinder Raja

Assistant Professor, ENT Department, Mahavir Institute of Medical Sciences, Vikarabad, Telangana, India

Dr. Feroz Basha Shaik

Assistant Professor, ENT Department, Mahavir Institute of Medical Sciences, Vikarabad, Telangana, India
Keywords:
External auditory canal, Foreign bodies, Children
Abstract
Objective: To carry out a retrospective analysis of children with foreign bodies of the external auditory canal (EAC).
Patients and Methods: A total of 120 children up to the age of 14 years with foreign bodies of the external auditory canal. Demographic data recorded included the patient's age and gender, the type of foreign body encountered, and how the object was successfully removed. The duration of the foreign bodies present in the EAC was also recorded when available.
Results: The commonest objects were beads and insects. The commonest presentation was local pain, found in 49% of cases. Other means of presentation include verbal admission by the child (31.3%), an incident witnessed by the caregiver (7%), bleeding from the ear (4%), ear discharge (2.8%), fever (1.4%), tinnitus (1.1%), and others (3.4%). 34 patients (28.3%) required surgical removal under general anaesthesia. Of these 34 patients, 20 (70.6%) were below the age of 5 years. Morbidity included 7 canal lacerations and abrasions, 4 tympanic membrane perforation, 3 trauma-induced cases of otitis externa.
Conclusion: Adequate immobilization of the child and proper use of instruments provides an uncomplicated removal of many of these foreign bodies in the age group. General anaesthesia is considered in very young children and in children of any age with certain foreign bodies whose contour, composition, or location within the external ear canal can lead to traumatic removal in the ambulatory setting.
Downloads
Download data is not yet available.
References
Das SK Aetiological evaluation of foreign bodies in the ear and nose. J Laryngol Otol. 1984;98(10):989-991.doi: https://doi.org/10.1017/s002221510014784x.
Walile J Management of acute ear infections. Otolaryngol Clin North Am. 1979;12(2):439-445. doi: https://doi.org/10.1542/peds.101.4.638.
Bressler K, Shelton C. Ear foreign-body removal: a review of 98 consecutive cases. Laryngoscope. 1993;103(4 pt 1):367-370. doi: https://doi.org/10.1002/lary.5541030401.
Ansley JF, Cunningham MJ. Treatment of aural foreign bodies in children. Paediatrics. 1998;101(4 pt 1):638-641.doi: http://dx.doi.org/10.1542/peds.101.4.638.
Baker MD. Foreign bodies of the ears and nose in childhood. PediatrEmerg Care. 1987;3(2):67-70. doi: http://dx.doi.org/10.1097/00006565-198706000-00001.
Rosen P, Barkin R. Emergency medicine–concepts and clinical practice. 4th Ed. St Louis: Mosby, 1998.
Davies PH, Benger JR. Foreign bodies in the nose and ear: a review of techniques for removal in the emergency department. Emerg Med J. 2000;17(2):91-94. doi: http://dx.doi.org/10.1136/emj.17.2.91.
Lossos I, Breuer R A rare case of hiccups. N Engl J Med. 1988;318(11):711-712.doi: https://doi.org/10.1056/nejm198803173181119.
Wagner MS, Stapczynski JS Persistent hiccups. Ann Emerg Med. 1982;11(2):24-26. doi: https://doi.org/10.1016/s0196-0644(82)80009-7.
DiMuzio J Jr, Deschler DG. Emergency department management of foreign bodies of the external ear canal in children. OtolNeurotol. 2002;23(4):473-475. doi: https://doi.org/10.1097/00129492-200207000-00014.
Schulze SL, Kerschner J, Beste D. Pediatric external auditory canal foreign bodies: a review of 698 cases. Otolaryngol Head Neck Surg. 2002;127(1):73-78. doi: https://doi.org/10.1067/mhn.2002.126724.
Votey S, Dudley JP. Emergency ear, nose and throat procedures. Emerg Med Clin North Am. 1989;7(2):117-154.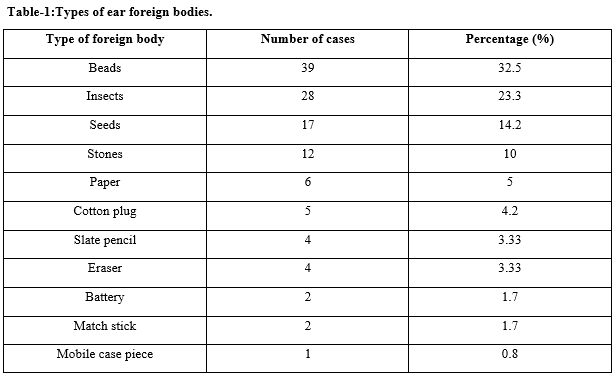 How to Cite
Khetawat, R. R., & shaikh, feroz basha. (2020). Foreign bodies of the external auditory canal in children. Tropical Journal of Ophthalmology and Otolaryngology, 5(4), 84-87. https://doi.org/10.17511/jooo.2020.i04.01
Copyright (c) 2020 Author (s). Published by Siddharth Health Research and Social Welfare Society
This work is licensed under a Creative Commons Attribution 4.0 International License.