Irreversible visual loss and posterior uveitis as the initial manifestation of Behcet's Disease
Prof. Dr. Radha Annamalai

Professor of Ophthalmology, Department of Ophthalmology, Sri Ramachandra Institute of Higher Education and Research Porur, Chennai, India

Dr. Ansu Ann John

Postgraduate (MS Ophthalmology), Department of Ophthalmology, Sri Ramachandra Institute of Higher Education and Research, Porur, Chennai, India

Prof. M. Muthayya

Professor of Ophthalmology, Department of Ophthalmology, Sri Ramachandra Institute of Higher Education and Research, Porur, Chennai, India
Keywords:
Behcet's, Immunosuppressives, Corticosteroids, Retinitis, Optic atrophy
Abstract
This is to report a rare case of rapid onset, severe visual loss in a young male patient with Behcet's disease who had ocular disease as an initial manifestation. Vision was perception of light with inaccurate projection in both eyes. Anterior segment showed no inflammation. Fundus examination revealed vitritis, total optic atrophy, branch retinal vein occlusion and cellophane maculopathy. Visual evoked potential showed delayed P 100 responses in the left eye suggestive of left anterior visual pathway conduction defect. Systemic examination showed no active symptom complex. There was no response to oral corticosteroids or immunosuppressive drugs. Though rare in the Indian population, Behcet's disease can be severe, progress rapidly and is less responsive to conventional treatment as in our patient. This case is presented for its rarity, as ocular features were the initial and only manifestation. Despite immediate therapy with corticosteroids and immunosuppressives, continued inflammation resulted in visual loss.
Downloads
Download data is not yet available.
References
Scherrer MAR, Rocha VB, Garcia LC. Behçet's disease: review with emphasis on dermatological aspects. Anais Brasileiros de Dermatologia. 2017;92(4):452–464. doi: http://dx.doi.org/10.1590/abd1806-4841.20177359.
McCluskey P, Powell PRJ. The eye in systemic inflammatory diseases. The Lancet. 2004;364(9451):2125-2133. doi: https://doi.org/10.1016/S0140-6736(04)17554-5.
Alpsoy E, Donmez L, Onder M, Gunasti S, Usta A, Karincaoglu Y, et al., Clinical features and natural course of Behçet's disease in 661 cases: a multicentre study. Brit J Dermatol. 2007;157(5):901-906. doi: https://doi.org/10.1111/j.1365-2133.2007.08116.x.
Prete M, Guerriero S, Dammacco R, Fatone MC, Vacca A, Dammacco F, et al. Autoimmune uveitis: a retrospective analysis of 104 patients from a tertiary reference center. J Ophthalmic Inflamm Infect. 2014;24;4(1):17. doi: https://doi.org/10.1186/s12348-014-0017-9.
Hazirolan D, Sungur G, Duman S., Demographic, clinical, and ocular features in patients with late-onset Behçet disease. Ocular Immunol Inflam. 2012;20(2):119-124. doi: https://doi.org/10.3109/09273948.2012.655882.
UStün C. A famous Turkish dermatologist, Dr. Hulusi Behçet. Eur J Dertmatol. 2002;12(5):469-470.
Davatchi F, Sadeghi Abdollahi B, Chams‐Davatchi C, Shahram F, Shams H, Nadji A, et al. The saga of diagnostic/classification criteria in Behcet's disease. Int J Rheumat Dise. 2015;18(6):594–605. doi: https://doi.org/10.1111/1756-185X.12520.
Tugal-Tutkun I, Onal S, Altan-Yaycioglu R, Altunbas HH, Urgancioglu M., Uveitis in Behçet disease: an analysis of 880 patients. Am J Ophthalmol. 2004;138(3):373-380. doi: https://doi.org/10.1016/j.ajo.2004.03.022.
Nussenblatt RB. Uveitis in Behçet's disease. Int Rev Immunol. 1997;14(1):1467-1479. doi: https://doi.org/10.3109/08830189709116845.
Rohatgi J, Singal A. Ocular manifestations of behcet's disease in Indian patients. Ind J Opthalmol. 2003;51(4):309-313.
Nobuyoshi K, Akiko M, Miles RS., Hormoz C, Daiju I, Shigeaki O. Ocular features of Behçet's disease: An international collaborative study. Br J Ophthalmol. 2007; 91(12):1579-1582. doi: http://dx.doi.org/10.1136/bjo.2007.123554.
Michelson JB, Chisari FV. Behçet's disease. Surv Ophthalmol. 1982;26(4):190-203. doi: https://doi.org/10.1016/0039-6257(82)90079-0.
Biswas J, Kharel Sitaula R, Multani P.Changing uveitis patterns in South India. Comparison between two decades. Indian J Ophthalmol. 2018; 66(4):524-527. doi: http://www.ijo.in/text.asp?2018/66/4/524/228483.
Sachdev N, Kapali N, Singh R, Gupta V, Gupta A. Spectrum of Behçet's disease in the Indian population. Int Ophthalmol. 2009;29(6):495-501. doi: https://doi.org/10.1007/s10792-008-9273-8
Okada AA. Behçet's disease: general concepts and recent advances. Curr Opin Ophthalmol. 2006; 17(6):551-556. doi: https://doi.org/10.1097/01.icu.0000247411.59213.bb.
Atmaca LS. Fundus changes associated with Behçet's disease. Graefes Arch Clin Exp Ophthalmol 1989;227(7):340-344. doi: https://doi.org/10.1007/BF02169409.
Evereklioglu C. Current concepts in the etiology and treatment of Behçet disease. Sur Ophthalmol. 2005;50(4):297-350. doi: 10.1016/j.survophthal.2005.04.009.
Handa T, Tsunekawa H, Yoneda M, Watanabe D, Mukai T, Yamamura M. Long-term remission of ocular and extraocular manifestations in Behcet's disease using infliximab. Clin Exp Rheumatol. 2011;29(4 Supp 67):S58-S63.
Khera TK, Dick AD, Nicholson LB. Mechanisms of TNFα regulation in uveitis: focus on RNA-binding proteins. Prog Ret Eye Res. 2010;29(6):610-621. doi: 10.1016/j.preteyeres.2010.08.003.
Comarmond C, Wechsler B, Bodaghi B, Cacoub P, Saadoun D. Biotherapies in Behçet's disease. Autoimmun Rev. 2014;13(7):762-769. doi: 10.1016/j.autrev.2014.01.056.
Atzeni F, Sarzi-Puttini P, Doria A, Boiardi L, Pipitone N, Salvarani C. Behçet's disease and cardiovascular involvement. Lupus. 2005;14(9):723-726. doi: 10.1191/0961203305lu2208oa.
Ozdal PC, Ortac S, Taskintuna I, Firat E. Long term therapy with low dose cyclosporin a in ocular Behcet's disease. Doc Ophthalmol. 2002;105(3):301-312. doi: 10.1023/a:1021227019915.
Tugal-Tutkun I, Urgancioglu M. Childhood-onset uveitis in Behcet disease: a descriptive study of 36 cases. Am J Ophthalmol. 2003;136(6):1114-1149. doi: 10.1016/S0002-9394(03)00791-8.
Rathinam SR, Namperumalsamy P. Global variation and pattern changes in epidemiology of uveitis. Indian J Ophthalmol. 2007;55(3):173-83. doi: 10.4103/0301-4738.31936.
McNally TW, Damato EM, Murray PI, Denniston AK, Barry RJ. An update on the use of biologic therapies in the management of uveitis in Behcet's disease: a comprehensive review. Orphanet J Rare Dis. 2017; 12(1): 130. doi: 10.1186/s13023-017-0681-6.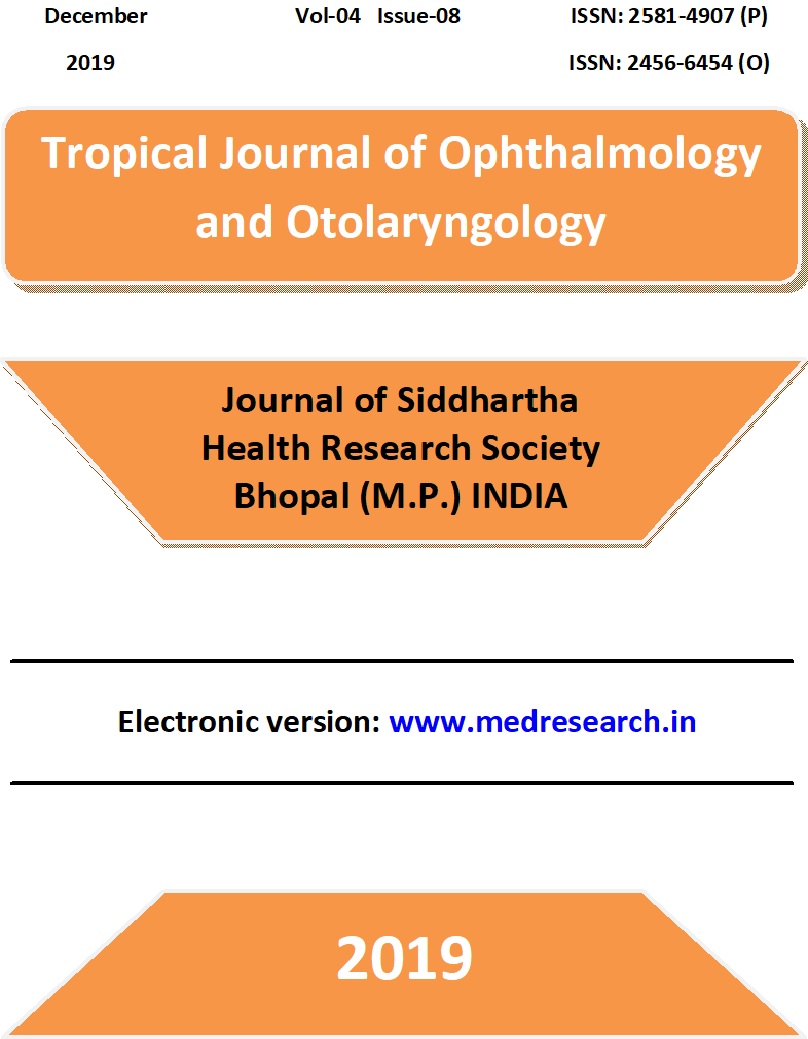 CITATION
DOI: 10.17511/jooo.2019.i08.08
How to Cite
Prof. Dr. Radha Annamalai, Ann John, A., & Muthayya, M. (2020). Irreversible visual loss and posterior uveitis as the initial manifestation of Behcet's Disease. Tropical Journal of Ophthalmology and Otolaryngology, 4(8), 502-506. https://doi.org/10.17511/jooo.2019.i08.08
Copyright (c) 2019 Author (s). Published by Siddharth Health Research and Social Welfare Society
This work is licensed under a Creative Commons Attribution 4.0 International License.