Ablution exercise – may prevent dacryocystitis
Dr. Jayati Pandey

Senior Resident, Department of Ophthalmology, G.S.V.M Medical College, Kanpur, Uttar Pradesh

Dr. Alok Ranjan

Senior Resident, Department of Ophthalmology, G.S.V.M Medical College, Kanpur, Uttar Pradesh, India

Dr Ramesh Chandra Gupta

Principal, LLRM Medical College, Meerut. Ex-HOD Department of Ophthalmology, India

Dr Perwez Khan

Professor & Head, Department of Ophthalmology, G.S.V.M Medical College, Kanpur, Uttar Pradesh, India
Keywords:
Chronic Dacryocystitis, Dacryocystorhinostomy (DCR), Epidemiology, Religion
Abstract
Background: Dacryocystitis is an infection and inflammation of the lacrimal sac and most common cause of ocular morbidity in India. It's accounting for 87.1% of epiphora and causes social discomfort due to continuous watering from the eyes. It is more common in India as being tropical country. It has higher incidence among lower socioeconomic status. Hygiene plays an important role in its aetiology.
Objective: This study was aimed to survey the demographic characteristics of patients received external dacryocystorhinostomy (DCR) surgery to correlate with religious aspect of the patients.
Material & Methods: The present study is a retrospective study conducted at Ophthalmology Department from the hospital records of patients who underwent external DCR for epiphora from January 2013 to December 2017.
Results: Out of 305 cases underwent DCR (n=305), maximum (n=179, 58.69%) were above the age of 40 years out of which maximum were in age group of 41-50 years (n=78, 24.57%),majority of them were females 70.49 % (n=215) with males being only 29.51 % (n=90). Out of 305 cases majority were Hindus (n=236, 77.38%) with Muslims being only 14.43 %(n=44) while 8.19% included Christians, Sikhs, Jains and other religions.
Conclusion: Overall finding showed in comparisons of men with the females of middle age and above and Muslims despite contributing to major population had less rate of DCR surgery than Hindus. This led to our view that some practices in Muslims might be preventing dacryocystitis in Muslims where ablution exercise might be one of them.
Downloads
Download data is not yet available.
References
Shah CP, Shantani D.A comparative bacteriological profile and antibiogram of Dacryocystitis. Nepal J Ophthalmol. 2011;3(6):134-139. doi: 10.3126/nepjoph.v3i2.5265.
Jacobs, H.G. Symptomatic epiphora. Brit. J. Ophth. 1959; 43:415.
Mal R, Banerjee AR, Biswas MC, Mondal A, Kundu PK, Sasmal NK. Clinico-bacteriological study of chronic Dacryocystitis in adults. J Indian Med Assoc. 2008;106(5):296-298.
Gillil G.D. Texas Ophthalmic Plastic, Reconstructive Orbital Surgery Associates eMed Space, opthal lacrimal August 18, 2009.
MyrenYanoff, Jay S. Duker. The lacrimal drainage system, Chapter-98, in: Ophthalmology, 2nd Edn. Mosby Publication. Pp.761-769 J Community Med. 2008;33(1):50-51.
Bartley GB. Acquired lacrimal drainage obstruction: an etiologic classification system, case reports, and a review of the literature. Part 1 Ophthalmic Plast Reconstr Surg. 1992;8(4):237-242.
Sihota R, Ton R. Disease of the lacrimal apparatus Parson's Disease of eye. 20thed, New Delhi-Elsevier 2007; Pp 447.
Ali MJ, Naik MN, Honavar SG. External dacryocystorhinostomy: Tips and tricks. Oman J Ophthalmol. 2012; 5(3):191-195. doi: 10.4103/0974-620X.106106.
Duggal P, Chakravorty S, Azad RK, Mohan C. An epidemiological study on patients undergoing dacryocystorhinostomy. Indian J Otolaryngol Head Neck Surg. 2006;58(4):349-351. doi: 10.1007/BF03049589.
Badhu B, Dulal S, Kumar S, Thakur SK, Sood A, Das H. Epidemiology of chronic dacryocystitis and success rate of external dacryocystorhinostomy in Nepal. Orbit. 2005;24(2):79-82. doi: https://doi.org/10.1080/01676830490916073.
Roussos J, Bouzas A: Attempted explanation with hormonal factors of the greater occurrence of chronic dacryocystitis in women than in men. Bull Men Soc Fr Ophthalmol. 1973;86:96-99.
Groessl SA, Sires BN: An anatomical basis for primary acquired nasolacrimal duct obstruction. Arch Ophthalmol. 1997;115(1):71-74. doi:10.1001/archopht.1997.01100150073012.
Yung M W and Hardman-lea S: Analysis of the results of surgical endoscopic dacryocystorhinostomy: effect of the level bony lacrimal canal: normal values and values related to obstruction. Brit J Ophthalmol. 2002;86(7):792-794. doi: 10.1136/bjo.86.7.792.
Sharma V, Martin PA, Benger R, Kourt G, Danks JJ, Deckel Y, Hall G. Evaluation Of the cosmetic significance of external dacryocystorhinostomy scars. Am J Ophthalmol 2005;140(3):359-362. doi: https://doi.org/10.1016/j.ajo.2005.04.039
Ben Simon GJ, Joseph J, Lee S, Schwarcz R M, McCann J D, Goldberg R A: External versus endoscopic dacryocystorhinostomy for acquired nasolacrimal duct obstruction in a tertiary referral centre. Ophthalmol. 2005;112(8):1463-1468. doi: https://doi.org/10.1016/j.ophtha.2005.03.015.
Jansen A G, Mansour K, Bos JJ, Castelijns JA, Diameter of the bony lacrimal canal: normal values and values related to naso-lacrimal duct obstruction assessment with CT. AJNR Am J Neuroradiol. 2001;22(5):845-850.
Kanpur City Census 2011 data Available at https://www.census2011.co.in/census/city/131-kanpur.html.
Iliff NT. Infections of the lacrimal drainage system. In: Peopse JS, Holland GN, Wilhelmus KR (eds). Ocular Infection and Immunity. Mosby: St Louis, MO, 1996, pp 1346-1355.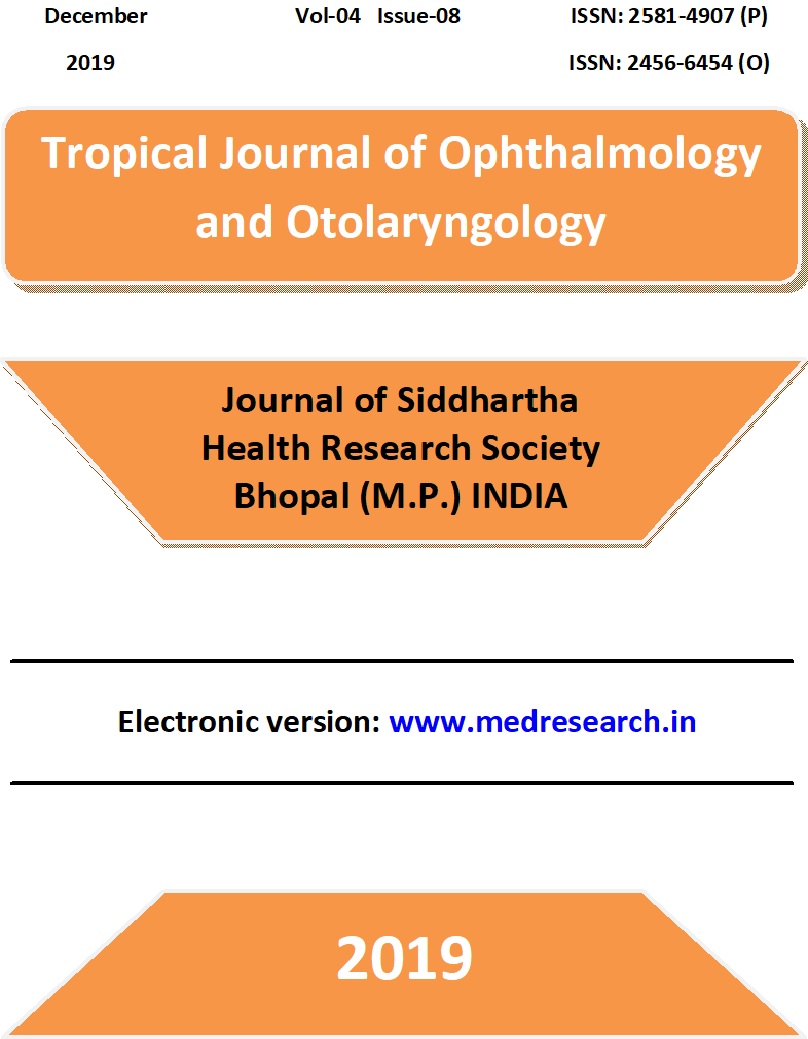 CITATION
DOI: 10.17511/jooo.2019.i08.03
How to Cite
Pandey, D. J., Ranjan, A., Chandra Gupta, R., & Khan, P. (2020). Ablution exercise – may prevent dacryocystitis. Tropical Journal of Ophthalmology and Otolaryngology, 4(8), 463-467. https://doi.org/10.17511/jooo.2019.i08.03
Copyright (c) 2019 Author (s). Published by Siddharth Health Research and Social Welfare Society
This work is licensed under a Creative Commons Attribution 4.0 International License.