Childhood Blindness: Causes & Prevention
Dr. Rabindran

Consultant Neonatologist, Billroth Hospital, Chennai, India

Dr D Sharad Gedam

Professor of Pediatrics, L N Medical college, Bhopal, MP, India
Keywords:
Childhood blindness, Vitamin A deficiency, Prevention of blindness
Abstract
The global prevalence of childhood blindness is approximately 1.4 million. Nearly 500,000 children become blind every year - nearly one per minute.Worldwide, vitamin A deficiency is the commonest single cause of childhood blindness. Childhood blindness can be categorized as preventable & curable. Preventable causes include corneal scars due to vitamin A deficiency, infections & injuries; whereas curable cause includepediatric cataract, glaucoma, retinopathy of prematurity & refractive errors. Of late childhood blindness has been identified as a priority in WHO's global initiative to eliminate avoidable blindness by the year 2020.Immunization, maternal & child health care, health education, good nutrition, provision of essential drugs, clean water supply & good sanitation, control of endemic diseases & treatment of common ailments, sufficient personnel trained in primary eye care are essential for control of childhood blindness.
Downloads
Download data is not yet available.
References
Mabey, David; Gill, Geoffrey; Weber, Martin W.; Whitty, Christopher J. M. (2013-01-17).Principles of Medicine in Africa. Cambridge University Press.
Gilbert C E, Foster A. Childhood blindness in the context of VISION 2020 – The Right to Sight. Bull World Health Organ. 2001;79(3):227-32.
Gilbert C, Rahi J, Quinn G. Visual impairment and blindness in children. In: Johnson ,Minassian,Weale,West , editors. Epidemiology of eye disease. 2nd ed. UK: Arnold Publishers; 2003.
Saxena R, Vashisht P, Singh D, Tandon R. Preventing childhood blindness: Synergy between ophthalmology and community medicine. Indian J Community Med 2015;40:149-51.DOI: 10.4103/0970-0218.158841.
Gilbert, Clare; Muhit, Mohammed (2008). "Twenty years of childhood blindness: what have we learnt?".Community Eye Health 21 (67): 46–47.
Dandona R., Dandona L. Childhood blindness in India: a population based perspective. Br. J. Ophthalmol. 2003; 87: 263-65.
Bhattacharjee, H; Das, K; Borah, RR; Guha, K; Gogate, P; Purukayastha, S; Gilbert, C (Nov–Dec 2008). "Causes of childhood blindness in the northeastern states of India.".Indian journal of ophthalmology 56 (6): 495–9.
Isenberg SJ, Apt L, Wood M. A controlled trial of povidone-iodine as prophylaxis against ophthalmianeonatorum. N Engl J Med 1995: 332:562-66.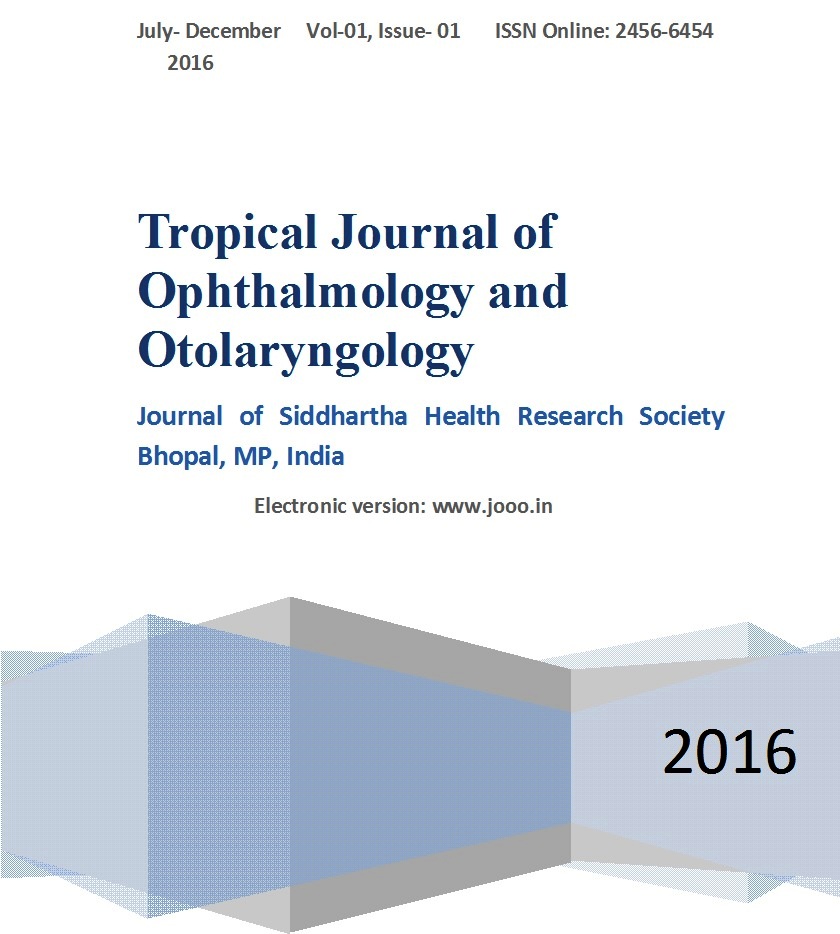 CITATION
DOI: 10.17511/jooo.2016.i01.01
How to Cite
Rabindran, & Gedam, D. S. (2016). Childhood Blindness: Causes & Prevention. Tropical Journal of Ophthalmology and Otolaryngology, 1(1), 1-2. https://doi.org/10.17511/jooo.2016.i01.01
Copyright (c) 2016 Author (s). Published by Siddharth Health Research and Social Welfare Society
This work is licensed under a Creative Commons Attribution 4.0 International License.